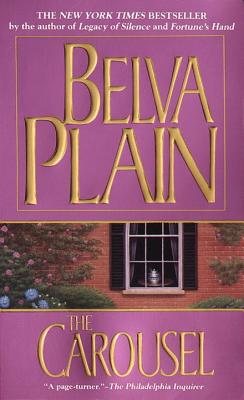 The Carousel (Mass Market Paperbound)
Dell, 9780440216841, 448pp.
Publication Date: April 2, 1996
* Individual store prices may vary.
or
Not Currently Available for Direct Purchase
Description
In public, Oliver Grey is a devoted father, prominent public figure, humanitarian, and respected businessman. But in private, there's a much darker side to Oliver Grey; a side so dark that someone is driven to kill him...
Though the Greys appear to be an enviable upper class family, they are not without problems. Ian, the older son, is a womanizer and compulsive gambler; Clive, the younger son, is an odd man barely five feet tall with no life outside his work as an accountant; and Amanda, Oliver's niece, whom he raised after her parents died in a plane crash, has been twice divorced and has had a difficult life. Dan, Amanda's brother, is the only Grey who appears to have no problems--except with his six-year-old daughter Caroline, whose behavior reminds him more and more of his troubled sister Amanda.
The trouble had started with Oliver Grey's decision to divide his nationally known business, Grey's Food, among Ian, Clive, and Dan. Amanda, bitter about being left out of the business, arrives from California to straighten out her financial holdings in the company. On a visit to Ellen, Dan's wife, Amanda sees a silver carousel much like the one Oliver gave her when she was a child. Ellen says the carousel was a gift to Caroline from Oliver. Amanda breaks down and tells Ellen that Oliver had given her the carousel to keep her from telling the truth about the unspeakable things he had done to her. Ellen, horrified by this revelation, finally understands why her daughter has been acting so strangely and why a therapist had raised the possibility that Caroline may have been sexually abused. Ellen goes to Oliver Grey's home that evening to confront him. And when she leaves he is dead.
Belva Plain breaks new ground in this stunning new novel. A family drama with a strong strain of mystery, The Carousel confirms her standing as one of today's most compelling and popular writers.
About the Author
Belva Plain captured readers' hearts with her first novel, Evergreen, which Delacorte published more than 30 years ago. It topped the New York Times best-seller list for 41 weeks and aired as an NBC-TV miniseries. In total, more than 20 of her books have been New York Times best sellers. Before becoming a novelist, Belva Plain wrote short stories for many major magazines, but taking care of a husband and three children did not give her the time to concentrate on the novel she had always wanted to write. When she looked back and said she didn't have the time, she felt as though she had been making excuses. In retrospect, she said, "I didn't make the time." But, she reminded us, during the era that she was raising her family, women were supposed to concentrate only on their children. Today 30 million copies of her books are in print. A Barnard College graduate who majored in history, Belva Plain enjoyed a wonderful marriage of more than 40 years to Irving Plain, an ophthalmologist. Widowed for more than 25 years, Ms. Plain continued to reside in New Jersey, where she and her husband had raised their family and which was still home to her nearby children and grandchildren until her death in October 2010.
Advertisement