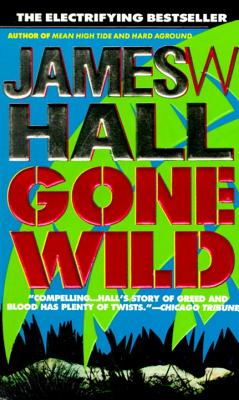 Gone Wild (Mass Market Paperbound)
Dell, 9780440217817, 464pp.
Publication Date: January 1, 1996
Description
From James W. Hall, the highly acclaimed best-selling author of Hard Aground, Mean High Tide, and Bones Of Coral, comes a stunning and superbly rendered new thriller in which the most deadly animals in the jungle are the ones that kill for money. With one poacher's bullet, a young woman's life is tragically, brutally taken--and her mother's is shattered forever. Thus begins Gone Wild, James W. Hall's electrifying new novel, which penetrates the lush, sultry jungles of Africa and Malaysia to explore the mercenary slaughter of animals-and to expose the savagery and humanity in us all. Gone Wild brings back Thorn, the haunting, quixotic hero last seen in the best-seller Mean High Tide. And in a novel filled with the author's signatures exotic locales, vise-tightening suspense, steamy sexuality, hypnotic prose--Hall introduces a bold new element: one of the toughest, most complex female characters in modern fiction. Allison Farleigh's desperate struggle to save the endangered orangutans from poachers--and to uncover the truth about her daughter's murder--give the novel its passion and its fire. And the shocking international conspiracy she exposes in the process gives Gone Wild its relentless, heart-pounding tension. A mesmerizing journey into the heart of darkness, Gone Wild is one of those rare thrillers that not only makes you sweat--it makes you think. From the Hardcover edition.
About the Author
James Hall, a former art critic of the Guardian, was awarded the first Bernard Denvir Prize for an outstanding young critic. He is the author of 20 novels, 14 of which feature Thorn, the off-the-grid loner who lives a primitive existence in Key Largo, Florida. Thorn and his friend Sugarman, an African-American PI, team up to solve exotic crimes from animal smuggling to piracy to kidnapping to espionage. Hall has won the Edgar Award and the Shamus and several of his novels have been optioned for film.
Advertisement