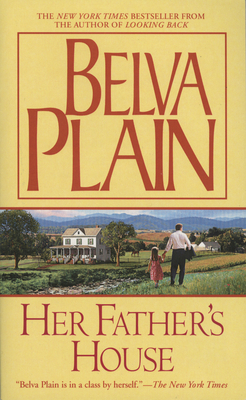 Her Father's House (Mass Market Paperbound)
Dell, 9780440235804, 416pp.
Publication Date: December 2, 2003
* Individual store prices may vary.
or
Not Currently Available for Direct Purchase
Description
Beloved storyteller Belva Plain understands the rich tapestry of the human heart like no other. Her many dazzling New York Times bestsellers probe the shifting bonds of marriage and family with insight, compassion, and uncommon grace. And her new novel is no exception. A tale of fathers and daughters, lovers and families, acts of love and acts of betrayal, Her Father's House is Belva Plain's most powerful and unforgettable novel yet. It is the spring of 1968 when Donald Wolfe, a young graduate of a midwestern law school, arrives in New York. Filled with ambition and idealism, he is dazzled not only by the big city but by the vivacious, restless Lillian, whom he marries in the heat of infatuation. Surely theirs is no marriage made in heaven, but they have a child, Tina, and she is the love of Donald's heart. For her he would give up everything--his home, his distinguished career, and his freedom. When his flawed marriage begins to fail, a choice must be made. Shall he consider a step that would force him into flight and a life of hiding? From her earliest years, Tina is exceptional, a brilliant student and a joyous, loving spirit. At the university she falls in love with Gilbert, who graduates from law school just as she is about to enter medical school. Together they go to New York, where she learns the truth about her family's past, a truth that must change her regard for the father who has protected and cherished her. When a terrible lie has been told out of love, can it be forgiven? With courage and compassion, Belva Plain paints a moving portrait of the choices that shape the course of our lives, the secrets that haunt us, and the love that helps us heal and move on. It is a work of riveting storytelling and rare emotional power by one of the most gifted novelists of our time. From the Hardcover edition.
About the Author
Belva Plain captured readers' hearts with her first novel, Evergreen, which Delacorte published more than 30 years ago. It topped the New York Times best-seller list for 41 weeks and aired as an NBC-TV miniseries. In total, more than 20 of her books have been New York Times best sellers. Before becoming a novelist, Belva Plain wrote short stories for many major magazines, but taking care of a husband and three children did not give her the time to concentrate on the novel she had always wanted to write. When she looked back and said she didn't have the time, she felt as though she had been making excuses. In retrospect, she said, "I didn't make the time." But, she reminded us, during the era that she was raising her family, women were supposed to concentrate only on their children. Today 30 million copies of her books are in print. A Barnard College graduate who majored in history, Belva Plain enjoyed a wonderful marriage of more than 40 years to Irving Plain, an ophthalmologist. Widowed for more than 25 years, Ms. Plain continued to reside in New Jersey, where she and her husband had raised their family and which was still home to her nearby children and grandchildren until her death in October 2010. From the Hardcover edition.
Advertisement