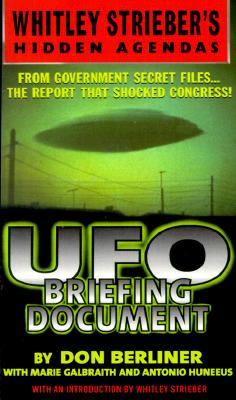 UFO Briefing Document: The Best Available Evidence (Mass Market Paperback)
The Best Available Evidence
Dell, 9780440236382, 256pp.
Publication Date: June 13, 2000
* Individual store prices may vary.
or
Not Currently Available for Direct Purchase
Description
From Government secret files...The report that shocked the Congress The shattering report that stunned the world's top leaders now available to the public Are UFOs in our midst? The evidence mounts.... 1952. UFO squadrons over Washington, D.C. Tracked on radar. Visual sightings by military. Verdict: "Unexplainable." 1976. UFO dogfight with F-4 Phantom II jets over Tehran. Weapons "jammed." Radar/visual confirmation. Verdict: "Unavailable: Top Secret." 1981. UFO lands in Trans-en-Provence. Investigated by French police. Soil samples analyzed. Verdict: "UFO. No hoax." Compiled here are the most compelling and authenticated UFO cases ever recorded. Fresh from the government's secret files, spanning over a half century of eyewitness testimony, documented sightings, and unexplained phenomena, this groundbreaking compilation presents the chilling evidence that UFOs are real--and that a government cover-up has long suppressed the stunning truth. Complete with excerpts from official transcripts, diagrams, and photos, UFO Briefing Document, funded by Laurance Rockefeller and presented to Congress, contains critical information the public has a right to know....now, before it is too late.
About the Author
Don Berliner is an independent journalist and aviation historian who has been writing full-time for over 30 years, after having been a newspaper reporter and photographer, assistant editor, and Capitol Hill correspondent for a group of scientific newsletters. Berliner's many books include Airplane Racing, Helicopters, Record-Breaking Airplanes, Airplanes of the Future, Victory Over the Wind, and the definitive report on the 1947 Roswell, New Mexico, UFO incident, Crash at Corona (with Stanton Friedman). Whitley Streiber is the author of 22 books, including bestselling books on UFOs. Among these are Communion, Transformation, Breakthrough, The Secret School, and Confirmation. Confirmation was made into a two-hour special by NBC. Strieber is the host of the Sunday night radio program Dreamland, which airs on 300 stations and has seven million listeners. He is the cofounder, with his wife, Anne, of the Communion Foundation, devoted to the study of the UFO enigma.
Advertisement