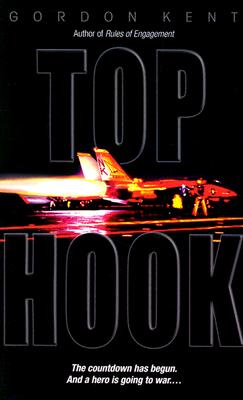 Top Hook (Mass Market Paperbound)
Dell, 9780440237495, 572pp.
Publication Date: March 4, 2003
* Individual store prices may vary.
or
Not Currently Available for Direct Purchase
Description
The
Alan Craik
novels have earned GORDON KENT electrifying praise for their breakneck pace and raw emotion, as well as for some of the most remarkable heroes--and villains--in fiction today. Now U.S. Navy Officer Craik is back in action, all because one man, fueled by anger, ambition, and pain, has ignited an explosive chain of events that threatens not only two good careers, but world peace itself....
TOP HOOK

It's springtime in Newport and Alan Craik and his wife, Rose Siciliano, are on top of the world. She's headed for astronaut training; he's going into an espionage school. Parents, pilots, lovers, and loyal navy officers through and through, the husband-and-wife team are eager to take the next step. Then it all comes crashing down.
In a Virginia suburb of D.C., a senior CIA man has committed a series of clandestine acts that have led him into the most dangerous place he has ever been. Now George Shreed's dark secret is in danger--and a woman is demanding a million dollars in exchange for her silence. Shreed's next desperate move is to find someone to take the blame for the information he himself leaked. The fall guy will be a woman: Rose Siciliano.
Suddenly, an investigation targets Rose, and, by association, her husband, Alan. And as a circle of treachery tightens around them, events race out of anyone's control. In command of an airborne unit on the USS Thomas Jefferson in Trieste, Alan is contacted by the same woman who is blackmailing Shreed. Soon he is being pulled into a vortex of spies and counterspies while a series of stunning escalations take his high-tech airborne attachment--and the world--to the brink of war.
In the most dangerous region on earth, Alan Craik is crashing through forbidden airspace to find a spy, code-named "
Top Hook
," whose act of betrayal is more complex--and chilling--than anyone can guess.
From the deafening roar of jet fighters launching off an aircraft carrier to nerve-shattering clandestine meetings in Turkey, North Africa, and Pakistan,
Top Hook
is a relentless turbocharged ride--and the best work yet from the most original writer in military adventure today.
From the Hardcover edition.
About the Author
GORDON KENT is the pseudonym of a father and son writing team, who both have extensive personal experience in the U.S. Navy and are former intelligence officers. The son earned his Observer Wings in S-3 Vikings, and left active duty in 1999. They share interests in history, fishing, and Africa, where they have spent considerable time, in and out of military service. Both live in the United States, where they are working on a fourth Alan Craik novel. From the Hardcover edition.
Praise For Top Hook…
Praise for GORDON KENT'S

Rules of Engagement

"Flying, spying and dying--Rules of Engagement is the real straight Navy stuff. Better strap yourself to the chair for this one. I loved it."
--New York Times bestselling author STEPHEN COONTS

"Plenty of flying, espionage and a sizable body count...this is a can't-put-down book."
--USA Today

"Rules of Engagement has it all--gripping heat-of-battle action and a terrific new hero, a young naval intelligence officer hell-bent on finding the spy who killed his father. A tale of friends and enemies, sacrifice and betrayal, honor and revenge, Rules of Engagement is an exhilarating debut."
--New York Times bestselling author W.E.B. Griffin


"Fast-moving, heavy with air and land action, and authentic enough to satisfy the most demanding techno-buffs. A nice combination of military thriller and spy novel."
--Booklist

"The writers' knowledge of naval technology and wartime tactics is flawless, and they work it effortlessly into the plot."
--Publishers Weekly

Peacemaker

"A fireball of a military thriller...few authors integrate multiple plots with such dazzling 3-D realism and technical accuracy...A tour de force with near hypnotic pull, Kent's second outing scores a bull's-eye and saves rocket fuel for a sequel."
--Publishers Weekly

"Heroes of both sexes to root for, deliciously corrupt villains to create anxiety...this rollicking, rousing naval thriller bears comparison to the genre's best."
--Kirkus Reviews

Advertisement