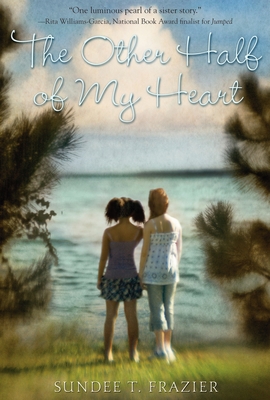 The Other Half of My Heart (Paperback)
Yearling, 9780440240068, 304pp.
Publication Date: June 14, 2011
Other Editions of This Title:
Digital Audiobook (6/13/2011)
CD-Audio (6/14/2011)
* Individual store prices may vary.
Description
The story of biracial twin sisters—one black, one white—and the summer that tests their strong bond, from the author of Coretta Scott King/John Steptoe New Talent Author Award-winner Brendan Buckley's Universe and Everything in It.
 
When Minerva and Keira King were born, they made headlines: Keira is black like Mama, but Minni is white like Daddy. Together the family might look like part of a chessboard row, but they are first and foremost the close-knit Kings. Then Grandmother Johnson calls, to invite the twins down South to compete for the title of Miss Black Pearl Preteen of America.
     Minni dreads the spotlight, but Keira assures her that together they'll get through their stay with Grandmother Johnson. But when their grandmother's bias against Keira reveals itself, Keira pulls away from her twin. Minni has always believed that no matter how different she and Keira are, they share a deep bond of the heart. Now she'll find out whether that's really true.

"One luminous pearl of a sister story."--RITA WILLIAMS-GARCIA, author of the Newbery Honor Award-winner One Crazy Summer

Winner of the Skipping Stone Honor Award
 
*"Frazier highlights the contradictions, absurdities, humor, and pain that accompany life as a mixed-race tween. Never didactic, this is the richest portrait of multiracial identity and family since Virginia Hamilton's 1976 novel Arilla Sun Down. An outstanding achievement."—Kirkus Reviews, Starred
 
*"Not only does Frazier raise questions worth pondering, but her ability to round out each character, looking past easy explanations for attitude, is impressive. . . . A novel with a great deal of heart indeed."—Booklist, Starred
About the Author
SUNDEE T. FRAZIER is the author of Brendan Buckley's Universe and Everything in It, for which she received the Coretta Scott King/John Steptoe New Talent Author Award. As a teen, she was crowned Miss Palouse Empire and was first runner-up in the Washington State Junior Miss Program (not pageant). Learn more about her and her books at sundeefrazier.com.


From the Hardcover edition.
Praise For The Other Half of My Heart…
"Funny and deeply affecting, this novel by the Steptoe Award winner for Brendan Buckley's Universe and Everything in It (2007) revisits the still largely unexplored world of multiracial heritage...Frazier highlights the contradictions, absurdities, humor and pain that accompany life as a mixed-race tween. Never didactic, this is the richest portrait of multiracial identity and family since Virginia Hamilton's 1976 novel Arilla Sun Down. An outstanding achievement."
-Kirkus Reviews, starred review


"A novel with a great deal of heart indeed..."
- Booklist, starred review