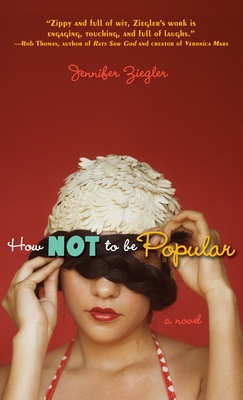 How Not to Be Popular (Paperback)
Delacorte Press, 9780440240242, 339pp.
Publication Date: March 9, 2010
Description
Maggie Dempsey is tired of moving all over the country. Her parents are second-generation hippies who uproot her every year or so to move to a new city. When Maggie was younger, she thought it was fun and adventurous. Now that she's a teenager, she hates it. When she moved after her freshman year, she left behind good friends, a great school, and a real feeling of belonging. When she moved her sophomore year, she left behind a boyfriend, too. Now that they've moved to Austin, she knows better. She's not going to make friends. She's not going to fit in. Anything to prevent her from liking this new place and them from liking her. Only . . . things don't go exactly as planned.
From the Hardcover edition.
About the Author
Jennifer Ziegler is the author of Alpha Dog and Sass & Serendipity. She lives in Austin, Texas, with her family.
Praise For How Not to Be Popular…
"Zippy and full of wit, Ziegler's work is engaging, touching, and full of laughs." - Rob Thomas, author of Rat Saw God and creator of Veronica Mars

"Maggie and Jack's relationship rings true, adding an irresistible sincerity to both characters that allows Maggie's self-discovery and growth to unfold naturally. Thoughtful and fun."—Kirkus Reviews
Advertisement