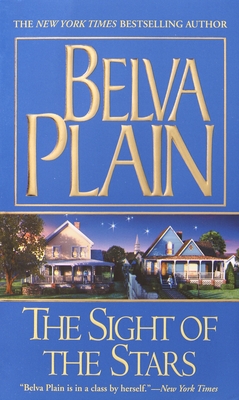 The Sight of the Stars (Mass Market Paperbound)
Dell, 9780440241249, 352pp.
Publication Date: November 23, 2004
* Individual store prices may vary.
or
Not Currently Available for Direct Purchase
Description
New York Times bestselling author Belva Plain beguiles us once again with a novel that explores the bonds that sustain families--and the lies that can shatter them forever. Sweeping through the pivotal events of twentieth-century America, The Sight of the Stars chronicles four generations of one remarkable family as they journey through years of love, loss, sacrifice, and unimaginable betrayal. Dressed in a brand-new suit, with one hundred and fifty dollars in his pocket, Adam Arnring says good-bye to his family and boards a train for the fabled West. The year is 1907. Adam is nineteen years old, a young man with stars in his eyes who has always dreamed of a future in the great open spaces of America. Now, far from his New Jersey home, he takes the first step toward attaining that dream, landing a job in a small department store in a booming Texas town. Here he meets a woman who excites him beyond all measure. The exquisite, untouchable Emma Rothirsch lives in a world whose doors are firmly closed to him. But Adam is a man willing to take great risks to get what he wants. One is Emma. The other is to build a lasting business enterprise that will live on through his children and grandchildren. But just when Adam's dreams are within reach, fate intervenes. Tragedy strikes from the trenches of World War I, setting in motion a series of events that echo down through the years. The owner of a prospering department store and the head of a growing family, Adam succumbs to a moment of weakness that culminates in an unforgivable act of betrayal. And now, as another generation prepares to take its rightful place in the family's legendary empire, the tenuous threads of the Arnrings' past begin to unravel, revealing a shattering secret that reaches back nearly a century. Across a teeming canvas of history, through world wars and the close of a century, The Sight of the Stars tells a deeply affecting story of family and forgiveness, guilt and redemption. Brimming with the emotional depth and moral complexity we have come to expect from this incomparable storyteller, The Sight of the Stars is about what happens when we dare to dream, and the moments that can change families forever. From the Hardcover edition.
About the Author
Belva Plain captured readers' hearts with her first novel, Evergreen, which Delacorte published more than 30 years ago. It topped the New York Times best-seller list for 41 weeks and aired as an NBC-TV miniseries. In total, more than 20 of her books have been New York Times best sellers. Before becoming a novelist, Belva Plain wrote short stories for many major magazines, but taking care of a husband and three children did not give her the time to concentrate on the novel she had always wanted to write. When she looked back and said she didn't have the time, she felt as though she had been making excuses. In retrospect, she said, "I didn't make the time." But, she reminded us, during the era that she was raising her family, women were supposed to concentrate only on their children. Today 30 million copies of her books are in print. A Barnard College graduate who majored in history, Belva Plain enjoyed a wonderful marriage of more than 40 years to Irving Plain, an ophthalmologist. Widowed for more than 25 years, Ms. Plain continued to reside in New Jersey, where she and her husband had raised their family and which was still home to her nearby children and grandchildren until her death in October 2010. From the Hardcover edition.
Praise For The Sight of the Stars…
"Another comfy read."
--Kirkus Reviews
Advertisement