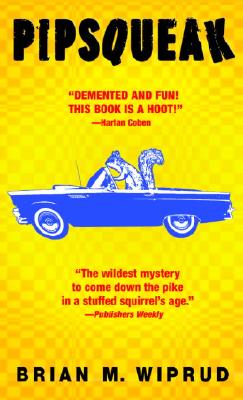 Pipsqueak (Mass Market Paperbound)
Dell, 9780440241874, 320pp.
Publication Date: June 1, 2004
* Individual store prices may vary.
or
Not Currently Available for Direct Purchase
Description
New York City taxidermy collector Garth Carson was seconds away from snagging the greatest find of his career--the original Pipsqueak the Nutty Nut, stuffed-squirrel puppet star of his favorite 1950s kiddie TV show--until a biker, a brawny redhead, and a murder derailed his dreams and stole his squirrel. Now Garth would do anything to get Pipsqueak back. Unfortunately, so would someone else.
When Garth and his gal, Angie, two of New York's most unlikely sleuths, enter a wacky, rollicking underworld of club-goers, jive cult members, and at least one very violent Pipsqueak aficionado, Garth's black-sheep crime-prone brother joins the fray, sure that there's more to this squirrel than old fur and a pair of glass eyes. Suddenly Garth is starting to get a clue: The puppet star of one old-time TV show is leading him straight into the heart of a loopy cult, a retro rage, and a diabolical conspiracy to first control Pipsqueak--then the world.
About the Author
BRIAN M. WIPRUD Age Still chews bubble gumPhysical Description Sinister & DangerousProfession Mystery Author, Outdoor WriterLatest Accomplishments *2002 Lefty Award for Most Humorous Novel*2002 Barry Award Nominee for Best Paperback Original.Latest Novel Read Royal Flash, John MacDonald FrazerLatest Movie Liked A Mighty WindHobby Exotic travel and fly fishingFavorite Lines "There was a demon that lived in the thin air; they said anyone who challenged him would die. Their controls would seize up, their planes would buffet wildly, and they would disintegrate. The demon lived at Mach 1 on the meter." Tom Wolfe, The Right Stuff.Favorite Scotch Bourbon Brian M. Wiprud is regularly published in magazines, periodicals and fly fishing magazines. He lives in New York City, where he is currently at work on a sequel to Pipsqueak. His website, www.wiprud.com, contains a full bio, interviews, events and signings.?
Praise For Pipsqueak…
"The Nick and Nora of taxidermy meet the Maltese Falcon...er...Squirrel in another crazy, funny mystery from Brian M. Wiprud."
—Sparkle Hayter

"The flat-out coolest mystery I've read in years, not to mention the funniest. Brian Wiprud is either a genius or a lunatic. Or maybe both." —Steve Hamilton
Advertisement