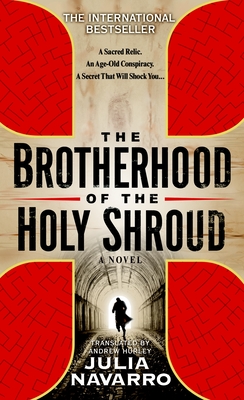 The Brotherhood of the Holy Shroud (Mass Market Paperbound)
Dell, 9780440243021, 546pp.
Publication Date: September 25, 2007
Description
The Brotherhood of the Holy Shroud is the explosive international bestseller that mixes fact and fiction to tell the riveting story of one of the world's most controversial relics--the Holy Shroud of Turin--and the desperate race to save it from those who will stop at nothing to possess its legendary power.... A fire at the Turin cathedral and the discovery of a mutilated corpse are the latest in a disturbing series of events surrounding the mysterious cloth millions believe to be the authentic burial shroud of Jesus Christ. Those who dare to investigate will be caught in the cross fire of an ancient conflict forged by mortal sacrifice, assassination, and secret societies tied to the shadowy Knights Templar. Spanning centuries and continents, from the storm-rent skies over Calvary, through the intrigue and treachery of Byzantium and the Crusades, to the modern-day citadels of Istanbul, New York, London, Paris, and Rome, The Brotherhood of the Holy Shroud races to a chilling climax in the labyrinths beneath Turin, where astounding truths will be exposed: about the history of a faith, the passions of man, and proof of the most powerful miracle of all.... From the Hardcover edition.
About the Author
Julia Navarro is a well known Madrid-based journalist who is currently a political analyst for Agencia OTR/Europa Press and a correspondent for other prominent Spanish radio and television networks and print media, including a weekly column for Tiempo magazine. Bantam Dell will publish the English translation of her second novel, The Bible of Clay, in Spring 2008. Andrew Hurley is best known for his translations of Jorge Luis Borges's Collected Fictions (1998), as well as Reinaldo Arenas's "Pentagony" novels (1986-2000). He lives and works in San Juan, Puerto Rico. From the Hardcover edition.
Praise For The Brotherhood of the Holy Shroud…
"For readers who can't get enough of the religious suspense genre."—Publishers Weekly
Advertisement