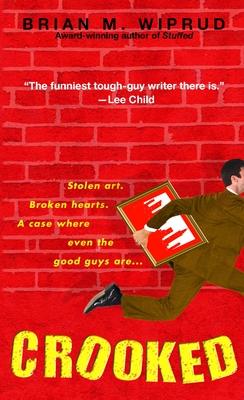 Crooked (Mass Market Paperbound)
Dell Publishing Company, 9780440243120, 285pp.
Publication Date: July 25, 2006
* Individual store prices may vary.
or
Not Currently Available for Direct Purchase
Description
Nicholas Palihnic is a natty, tweed-suited hustler who knows every nook and cranny of New York-and a thousand ways to break a girl's heart. Beatrice Belarus is a Manhattan art dealer with an insatiable appetite for money-and for anyone who gets in her way. And a painting titled Trampoline Nude, 1972 has neither nudity nor a trampoline. But when Nicholas is hired by an insurance company to find the recently stolen painting, a murdered art thief points him to a trove of gold buried beneath Manhattan-and suddenly all roads are leading back to Beatrice. As fortune hunters, lovers, and other strangers gather around him, there's one thing Nicholas must remember above all else: in this business, it's better to be crooked than dead....
About the Author
BRIAN M. WIPRUDAge: Wears red tennis shoesPhysical Description: Diabolical & Occasionally FiendishProfession: Mystery Author, Outdoor Writer & PhotographerLatest Accomplishments: *Independent Mystery Bookseller's Association Bestseller*2002 Lefty Award for Most Humorous Novel*2003 Barry Award Nominee for Best Paperback OriginalFavorite Books: The Squid and I, Chuck FlinkTubing Badgers for Fun and Profit, Bubbles McCoyFavorite Movies "Bowanga! Bowanga!," "Eegah!"Hobbies: Knife Throwing, Sword Swallowing, Hanging by Fish HooksFavorite Lines: "What a gorgeous day. What effulgent sunshine. It was a day of this sort the McGillicuddy brothers murdered their mother with an axe." WC Fields.Favorite Scotch: Bourbon
Praise For Crooked…
"Thrilling... Wiprud's engaging, hard-boiled style draws readers into both the art world and the underworld of New York, and his colorful cast keeps things moving with wit to spare."—Publishers Weekly

Advertisement