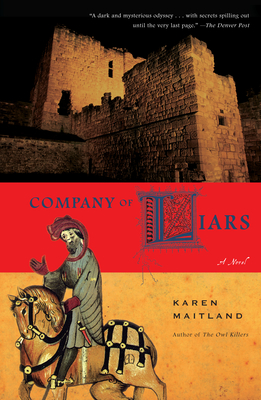 Company of Liars (Paperback)
Delta, 9780440244424, 465pp.
Publication Date: August 25, 2009
Description
EMBARK ON A TURBULENT JOURNEY THROUGH A RAVAGED COUNTRYSIDE . . . WITH ONLY LIARS FOR COMPANY. The year is 1348. In a world ruled by faith and fear, nine desperate strangers, brought together by chance, attempt to flee the certain death that is rolling inexorably toward them. Each traveler has a hidden gift, a dark secret, and a story to tell.... From Camelot, the relic-seller, to Cygnus, the one-armed storyteller--from the strange, silent child Narigorm to a painter and his pregnant wife, each guards secrets closely. None are as they seem. And one among them conceals the darkest secret of all--propelling these liars to a destiny more perilous than any of them could imagine.
About the Author
Karen Maitland has a doctorate in psycholinguistics. She traveled and worked in many parts of the world, from the Arctic Circle to Africa, before finally settling in the medieval city of Lincoln in England. Her British debut novel, The White Room, was short-listed for the Authors' Club of Great Britain Best First Novel Award. She is at work on her next novel, The Owl Killers. From the Hardcover edition.
Praise For Company of Liars…
"[Maitland] brings to life a medieval England of muddy streets and half-naked children fighting each other for pieces of dog dung to sell to the tanners, as sheep-stealers swing purple-faced from the gallows.... She neatly catches the spirit of primitive superstition that governed every aspect of 14th century life and then rolls on with it for her own story-telling ends.... Company of Liars is a richly evocative page-turner which brings to life a lost and terrible period of British history, with a disturbing final twist worthy of a master of the spine-tingler, such as Henry James."–Daily Express, UK

"Transports readers back to the days of the Black Death . . . Paying homage to The Decameron and The Canterbury Tales, this is a gripping read. . . . As a reader you are taken as close to the plague as you would ever wish to go." —Bookseller

"Darkly deceptive, twisting and turning and pulling you along, Company of Liars will leave you guessing until the end. Maitland creates a world that will both haunt and astonish you."—Shana Ábe

"Mysterious, sinister, and totally enthralling! It's the sort of book where you close the back cover and immediately open it again, hoping to find a few more pages."—Diana Gabaldon, #1 bestselling author of A Breath of Snow and Ashes

"Karen Maitland immerses the modern reader in the daily life of the Middle Ages. Intricately plotted, Company of Liars offers complex characters today's reader can identify with. A dark Canterbury's Tale, this long winter's night of magical storytelling expertly blends history and mystery."—Julia Spencer-Fleming, Edgar Award finalist and author of I Shall Not Want

"Karen Maitland has dug into some obscure corners of medieval history to produce an almost parallel universe: a place where myth, magic, and superstition take over as the established order breaks down, but a world that nevertheless rings true. On top of that, she has fashioned a compelling mystery story that should appeal to a much wider readership than historical fiction fans. . . . Compelling." —Daily Mail, UK

"Maitland combines the storytelling traditions of The Canterbury Tales with the supernatural suspense of Kate Mosse's Sepulchre in this atmospheric tale of treachery and magic."—Marie Claire

"A Canterbury Tales scenario with an M. Night Shyamalan ghost story…. A harrowing historical."—Denver Post

"A compelling and highly atmospheric twist on Dan Brown land."—The Mirror, UK

"Executed with stunning skill."—BookPage
Advertisement