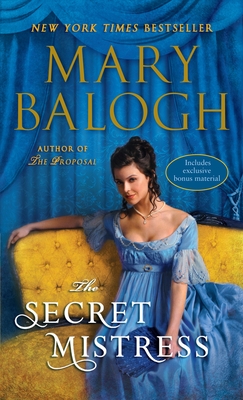 The Secret Mistress (Mass Market Paperbound)
Dell Publishing Company, 9780440245292, 417pp.
Publication Date: July 31, 2012
Description
NEW YORK TIMES BESTSELLER
While Lady Angeline Dudley's pedigree dictates that she must land a titled gentleman, the irrepressible beauty longs for a simple, ordinary suitor. So when Edward Ailsbury, the new Earl of Heyward, defends her honor with unmatched civility, Angeline thinks that she has found true love. Persuading the earl is another matter entirely. From her unconventional fashion sense to her hoydenish antics, Angeline is the last woman on earth for Edward. And yet a stolen kiss awakens something primal within him. Naturally, being a gentleman, he does the right thing after compromising a lady: He offers marriage. The proposal is born of duty, but will Angeline cause Edward to forget about decorum behind closed doors, where sensuality and seduction play wicked games? For a proper wife by day can become a husband's secret mistress by night, when delicious desire rules.
Includes Mary Balogh's "Now a Bride," featuring extra scenes from her Mistress series.
About the Author
Mary Balogh is the New York Times bestselling author of numerous books, including the acclaimed Slightly and Simply novels, the Mistress novels, and the five titles in her Huxtable series: First Comes Marriage, Then Comes Seduction, At Last Comes Love, Seducing an Angel, and A Secret Affair. A former teacher, she grew up in Wales and now lives in Canada.
Praise For The Secret Mistress…
"With exceptional insight and uncommon flair, [Mary] Balogh holds readers in thrall. . . . Exquisite character development, sparkling wit."—Library Journal (starred review and Editor's Pick)
 
"Balogh gifts readers with several memorable scenes, inserting wit and passion throughout."—The Star-Ledger
 
"Utterly delightful, charming and intelligent—a winner!"—RT Book Reviews
Advertisement