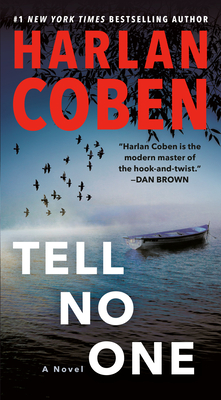 Tell No One (Mass Market Paperbound)
Dell Publishing Company, 9780440245902, 370pp.
Publication Date: August 25, 2009
Description
For Dr. David Beck, the loss was shattering. And every day for the past eight years, he has relived the horror of what happened. The gleaming lake. The pale moonlight. The piercing screams. The night his wife was taken. The last night he saw her alive. Everyone tells him it's time to move on, to forget the past once and for all. But for David Beck, there can be no closure. A message has appeared on his computer, a phrase only he and his dead wife know. Suddenly Beck is taunted with the impossible--that somewhere, somehow, Elizabeth is alive. Beck has been warned to tell no one. And he doesn't. Instead, he runs from the people he trusts the most, plunging headlong into a search for the shadowy figure whose messages hold out a desperate hope. But already Beck is being hunted down. He's headed straight into the heart of a dark and deadly secret--and someone intends to stop him before he gets there.
About the Author
Harlan Coben is the winner of the Edgar, Shamus, and Anthony awards. His critically acclaimed novels have been published in forty-one languages around the world and have been number one bestsellers in more than half a dozen countries. In addition to the Myron Bolitar series (Deal Breaker, Drop Shot, Fade Away, Back Spin, One False Move, The Final Detail, Darkest Fear, Promise Me, Long Lost, andLive Wire), Coben is also the author of the young adult Mickey Bolitar series including Shelter and Seconds Away, and of Miracle Cure, Play Dead, Tell No One, Gone for Good, No Second Chance, Just One Look, The Innocent, The Woods, Hold Tight, Caught, and Stay Close.
Praise For Tell No One…
"Harlan Coben's Tell No One begins at a run and in no time is moving at an all-out sprint.... The characters are engaging and the strange goings-on will leave readers rapidly turning pages in search of fresh clues.... [Coben] writes with wit and a shrewd sense of plotting."
— San Francisco Chronicle

"Set to be one of the big thriller reads of the summer.... Fifteen pages into this book, you're sucked in and Coben never lets the pace stall.... If it takes more than two days to finish this one, you're working too many hours. A hot summer rush."
— Detroit News

"Compelling, cinematic ... with surprises in store for the reader until the very last page.... [readers will] savor every clue, every detail."
— USA Today

"Coben knows how to move pages, and he generates considerable suspense."
— Publishers Weekly

"A gloriously exciting yarn. ... A quest for answers that will have you burning the midnight oil till 3:00 a.m."
— Kirkus Reviews

"Coben's latest thriller is the book everyone should take to the beach this summer. ... Tell everyone to read Tell No One."
— Library Journal

"Tell No One is such a terrific thriller, you'll want to tell everyone! Harlan Coben delivers the near-impossible — a can't-put-it-down page-turner with a slam-bang surprise ending. You'll read this book in one breathless gulp!"
— Lisa Scottoline, New York Times bestselling author of Moment of Truth

"Suspense at its finest."
— Jeffery Deaver

"Non-stop action with plot twists galore."
— Phillip Margolin

"A thriller of runaway tension."
— Iris Johansen
Advertisement