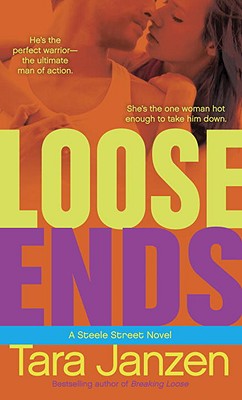 Loose Ends (Mass Market Paperbound)
A Steele Street Novel
Dell Publishing Company, 9780440246107, 389pp.
Publication Date: January 25, 2011
* Individual store prices may vary.
Description
WHITE-HOT, DOWN-AND-DIRTY PASSION IGNITES WHEN A SEXY SOLDIER ENCOUNTERS AN IRRESISTIBLE THIEF WHO'S CHANGED HER WAYS. Six years ago, the Special Defense Force mourned the loss of J. T. Chronopolous. Now the striking soldier is back with scant memory, a new name--Conroy Farrel--and one single mission: to bring down SDF. But SDF has its own plan: get him back at any cost. And so they've set a trap for Con, a trap that Jane Linden accidentally steps into. With darkness falling and the night heating up, Con finds himself on the run in an oddly familiar 1967 Pontiac GTO with a drop-dead-gorgeous brunette named Jane by his side. Who she is he doesn't know. Or does he? Jane certainly hasn't forgotten him. When she was a teenager, he caught her picking his pocket. Now the former street thief is all grown up and gone legit--and the effect she has on Con is all too clear: pure, sweet longing. Con's not sure if Jane is there to save him or to take him down. But one thing's certain: With desire leading the way, all bets are off.
About the Author
Tara Janzen is the bestselling author of the Steele Street novels and the Crazy series. Of the mind that love truly is what makes the world go round, she lives in Colorado, where she is working on her next book.
or
Not Currently Available for Direct Purchase