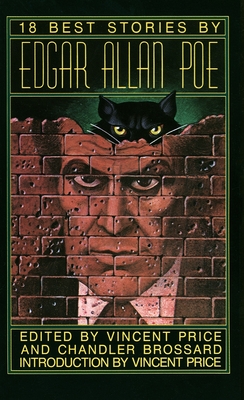 18 Best Stories by Edgar Allan Poe (Mass Market)
Dell, 9780440322276, 288pp.
Publication Date: April 15, 1965
* Individual store prices may vary.
Description
A chilling compilation of some of Edgar Allen  Poe's best-loved stories, edited by Vincent Price and  Chandler Brossard and with an introduction by  Vincent Price, including:

The Black  Cat - The Fall of the House of Usher - The Masque  of the Red Death - The Facts in the Case of M.  Valdemar - The Premature Burial - Ms. Found in a Bottle  - A Tale of the Ragged Mountains - The Sphinx -  The Murders in the Rue Morgue - The Tell-Tale Heart  - The Gold-Bug - The System of Dr. Tarr and  Prof. Fether - The Man That Was Used Up - The Balloon  Hoax - A Descent Into the Maelstrom - The  Purloined Letter - The Pit and The Pendulum - The Cask of  Amontillado
About the Author
Edgar Allan Poe was born in 1809 in Boston, the son of traveling actors. He published his first book of poems Tamerlane and Other Poems in 1827, followed by Tales of the Grotesque and Arabesque (which included "The Fall of the House of Usher") in 1839, but he did not achieve appreciable recognition until the publication of "The Raven" in 1845. He died in 1849.

Vincent Price (1911–1993), the actor, was also a noted art expert and lecturer.

Chandler Brossard (1922–1993) was a well-known writer and author of three major works.