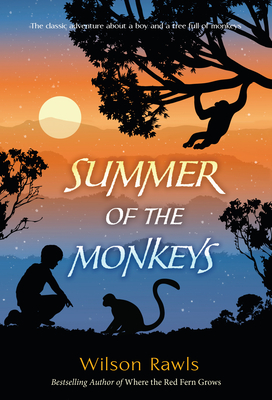 Summer of the Monkeys (Paperback)
Yearling Books, 9780440415800, 288pp.
Publication Date: December 29, 1998
Description
From the author of the beloved classic Where the Red Fern Grows comes a timeless adventure about a boy who discovers a tree full of monkeys.

The last thing fourteen-year-old Jay Berry Lee expects to find while trekking through the Ozark Mountains of Oklahoma is a tree full of monkeys. But then Jay learns from his grandpa that the monkeys have escaped from a traveling circus, and there's a big reward for the person who finds and returns them.
His family could really use the money, so Jay sets off, determined to catch them. But by the end of the summer, Jay will have learned a lot more than he bargained for--and not just about monkeys.
From the beloved author of Where the Red Fern Grows comes another memorable adventure novel filled with heart, humor, and excitement. Honors and Praise for Wilson Rawls' Where the Red Fern Grows A School Library Journal Top 100 Children's Novel
An NPR Must-Read for Kids Ages 9 to 14
Winner of 4 State Awards
Over 7 million copies in print "A rewarding book . . . with] careful, precise observation, all of it rightly phrased." --The New York Times Book Review "One of the great classics of children's literature . . . Any child who doesn't get to read this beloved and powerfully emotional book has missed out on an important piece of childhood for the last 40-plus years." --Common Sense Media "An exciting tale of love and adventure you'll never forget." --School Library Journal
About the Author
Wilson Rawls is the author of the timeless classic Where the Red Fern Grows and the acclaimed novel Summer of the Monkeys. He was born on a small farm in the Ozark Mountains and spent much of his boyhood roaming northeastern Oklahoma with his only companion, an old bluetick hound. Rawls's hound was not only a friend, but served as an audience for the endless stories he loved to tell. Though he didn't have access to real books until he was of high-school age, Rawls's modest beginnings provided the foundation upon which greater success was built. From the Hardcover edition.
Advertisement