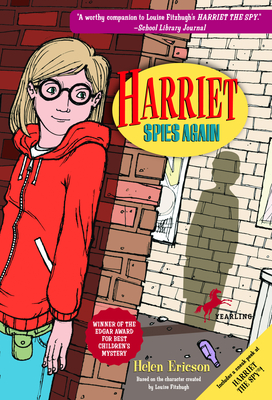 Harriet Spies Again (Paperback)
Yearling Books, 9780440416883, 256pp.
Publication Date: August 26, 2003
Description
Harriet M. Welsch has just received the best news of her eleventh year--Ole Golly is coming back Harriet can still remember how sad she was when her beloved nanny married George Waldenstein and moved away. But the circumstances of Ole Golly's return remain unclear. Where is George Waldenstein?
With Mr. and Mrs. Welsch living in France for three months, Sport confiding that he has a crush on a girl at school, and the arrival of a mysterious new neighbor, who's going to require a whole lot of spying, Harriet already has her hands full. Then she overhears Ole Golly saying she's innocent--but innocent of what? Harriet the Spy is on the case and ready to help Ole Golly in any way she can.
Praise for Harriet the Spy(R) and Her Friends

Harriet the Spy(R) "Harriet is . . . wholly relatable whether you're eleven or several times that age."--EW.com

Harriet Spies Again
By Louise Fitzhugh and Helen Ericson
Winner of the Edgar Award for Best Juvenile Novel "Ericson has perfectly captured the voice and pacing of Fitzhugh's original novel in a seamless rendering of a fresh, enjoyable story for today's readers." --School Library Journal Harriet the Spy, Double Agent
By Louise Fitzhugh and Maya Gold "Harriet the Spy is back, and Gold does a credible job of maintaining the special character and her crusty charm." --Booklist The Long Secret STAR] "Written with subtlety, compassion, and Louise Fitzhugh's] remarkable ability to see inside the minds of children." --School Library Journal, Starred

Sport STAR] "A worthy successor to Harriet the Spy--and that is high tribute." --Booklist, Starred From the Hardcover edition.
About the Author
Helen Ericson was introduced to Harriet M. Welsch in 1964 when she was nine years old. Ericson has grown up since then and was elated when the estate of Louise Fitzhugh granted her and Delacorte Press permission to continue Harriet's story in a companion book. The author lives in a small town in the Midwest with two teenage daughters, a young son, and a large cat named Goldfinger. She has degrees in both religion and law, but practices neither. Instead, she is a working journalist who also plays tennis, reads, skis, and sometimes moderates household debates. Like Harriet M. Welsch, Helen Ericson believes firmly in the importance of muscular verbs and interesting adjectives. Trounce and bestial are among her favorites. Louise Fitzhugh (1928-1974) was born in Memphis, Tennessee. She attended Bard College, studied art in Italy and France, and continued her studies in New York at the Art Students League and at Cooper Union. Her books Harriet the Spy, The Long Secret, and Sport have been acclaimed as milestones of children's literature. These classics delight readers year after year. From the Hardcover edition.
Praise For Harriet Spies Again…
"Ericson has perfectly captured the voice and pacing of Fitzhugh's original novel in a seamless rendering of a fresh, enjoyable story for today's readers."—School Library Journal
Advertisement