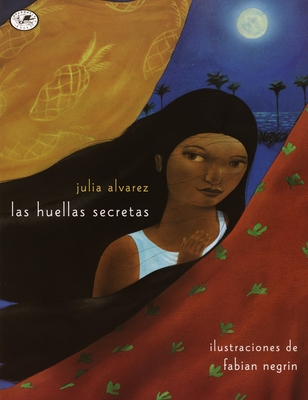 Las Huellas Secretas (Paperback)
Dragonfly Books, 9780440417644, 40pp.
Publication Date: September 10, 2002
Description
The Dominican legend of the ciguapas, creatures who lived in underwater caves and whose feet were on backward so that humans couldn't follow their footprints, is reinvented by renowned author Julia Alvarez. Although the ciguapas fear humans, Guapa, a bold and brave ciguapa, can't help but be curious--especially about a boy she sees on the nights when she goes on the land to hunt for food. When she gets too close to his family and is discovered, she learns that some humans are kind. Even though she escapes unharmed and promises never to get too close to a human again, Guapa still sneaks over to the boy's house some evenings, where she finds a warm pastelito in the pocket of his jacket on the clothesline.
About the Author
Julia Alvarez es la autora galardonada de De como las muchachas Garcia perdieron el acento yEn el tiempo de las mariposas. Sus muy elogiados libros para lectores jovenes incluyen Las huellas secretas, Un regalo de gracias, la serie de la tia Lola, En busca de milagros y Devolver al remitente. Alvarez ha recibido varios premios por sus obras, incluyendo el Pura Belpre Award y el Americas Award por sus libros infantiles, el Hispanic Heritage Award en Literatura y el F. Scott Fitzgerald Award por su Logro Destacado en la Literatura Americana. En 2013 fue premiada con la Medalla Nacional de las Artes de Estados Unidos por el presidente Obama. Es una escritora residente en Middlebury College y, junto con su esposo Bill Eichner, establecio Alta Gracia, un centro literario y finca sostenible de cafe en la Republica Dominicana.
Advertisement