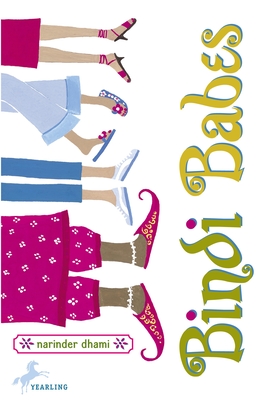 Bindi Babes (Bindi Babes Series #1) (Paperback)
Yearling, 9780440420194, 192pp.
Publication Date: November 8, 2005
Other Editions of This Title:
Digital Audiobook (8/9/2004)
Hardcover (8/10/2004)
Paperback (7/28/2003)
Audio Cassette (8/10/2004)
* Individual store prices may vary.
Description
Meet Amber, Jazz, and Geena Dhillon—a.k.a. the Bindi Babes. They're three fabulous sisters with a reputation for being the coolest, best-dressed girls at their school. But their classmates don't know that the Dhillon sisters work extra hard to look perfect and together to all of their friends . . . while privately trying not to think how much they miss their mom, who died a year ago. What these struggling sisters certainly don't need is an interfering auntie from India inviting herself into their household to cramp their style. Unfortunately, that's exactly what their dad allows to happen.

Soon the sisters' pushover dad is saying no to designer clothes and expensive sneakers, and Auntie is butting into every area of their lives. What are the Bindi babes to do? There's only one way to be rid of Auntie: marry her off to some unsuspecting guy. Will Amber, Jazz, and Geena find a man who can put up with Auntie before she completely ruins their lives? Or are Auntie's new rules doomed to make the fabulous Dhillon sisters just . . . average?
About the Author
Narinder Dhami began teaching in London. She is best known for the novelization of the hit British movie Bend It Like Beckham. Check out her Web site at www.narinderdhami.com.
Praise For Bindi Babes (Bindi Babes Series #1)…
"A touching story about loss, adjustment and family love, laced with humor."–Publishers Weekly, Starred