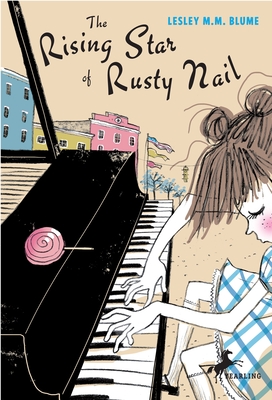 The Rising Star of Rusty Nail (Paperback)
Yearling Books, 9780440421115, 270pp.
Publication Date: June 23, 2009
Description
★ "A story that is as rich as it is delicious."--Booklist, Starred Franny Hansen is a 10-year-old piano prodigy living in Rusty Nail, Minnesota. Once the Coot Capitol of the world, in 1953 it's just a run-of-the-mill town with one traffic light and a bizarre cast of characters. She's long exhausted the talents of the town's only piano teacher and seems destined to perform at church events and school assemblies, until a mysterious Russian woman arrives in Rusty Nail. Franny's neighbors are convinced the "Commie" is a threat to their American way of life, but Franny's not so sure. Could this stranger be her ticket out of Rusty Nail? Lesley M. M. Blume returns with the poignant and laugh-out-loud funny story of one girl's attempt to pursue the American dream in small town America. "Blume has skillfully combined humor, history, and music to create an enjoyable novel that builds to a surprising crescendo."--School Library Journal
About the Author
Lesley M. M. Blume is the author of Cornelia and the Audacious Escapades of the Somerset Sisters and Tennyson. She lives in New York City.
Praise For The Rising Star of Rusty Nail…
★ "A story that is as rich as it is delicious."—Booklist, Starred

"Blume has skillfully combined humor, history, and music to create an enjoyable novel that builds to a surprising crescendo."—School Library Journal

Advertisement