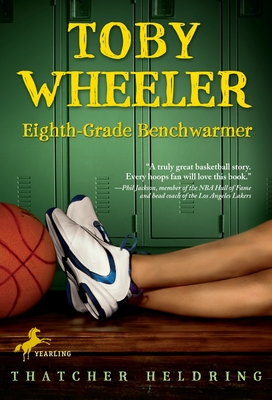 Toby Wheeler (Paperback)
Eighth Grade Benchwarmer
Yearling, 9780440421832, 224pp.
Publication Date: November 11, 2008
Other Editions of This Title:
Hardcover (8/14/2007)
* Individual store prices may vary.
Description
Fans of John Feinstein and Matt de la Peña will love Toby Wheeler's dreams of being a basketball star that Phil Jackson says is "a truly great basketball story."

And don't miss Thatcher Heldring's newest novel, The Football Girl--about a girl who follows her passion for the game and tries out for the football team!

When Toby Wheeler has a chance to join the junior high basketball team, he's eager to prove he can keep up with his best friend, JJ. But practice doesn't go quite as Toby has planned, and when the coach announces the lineup, Toby's hopes of playing ball with JJ are history: he's an eighth-grade benchwarmer!

"A truly great basketball story. Every hoops fan will love this book."—Phil Jackson, former head coach of the Los Angeles Lakers and member of the NBA Hall of Fame

"This novel will appeal to readers who are looking for something one step beyond Matt Christopher's books."—SLJ

"This engaging sports story gains depth from subplots involving Toby's tricky relationships with his former best friend and with the coach's daughter."–The Horn Book

"Looking for something to do during halftime of the March Madness basketball games? Read this book."-The Washington Post

"With so much written about the friction between girl friends, it's good to have a book that acknowledges that left-out feeling happens to boys, too."–Booklist
About the Author
THATCHER HELDRING grew up in the Pacific Northwest, where he taught himself to write and play sports—though not at the same time. Heldring has had several jobs in publishing. He has also worked as a grocery bagger, a ditchdigger, a small forward, a goalie, a scorekeeper, a coach, a rabid fan, a benchwarmer, and a shortstop. He lives with his wife and son in Seattle, a good place for indoor sports.
   He is the author of Toby Wheeler: Eighth-Grade Benchwarmer, Roy Morelli Steps Up to the Plate, The League, and The Football Girl. To learn more about Thatcher and his books, visit him online at spitballinc.com or follow @theldring on Twitter.
Praise For Toby Wheeler: Eighth Grade Benchwarmer…
"A truly great basketball story. Every hoops fan will love this book."—Phil Jackson, former head coach of the Los Angeles Lakers and member of the NBA Hall of Fame

"Engaging...will appeal to readers who are looking for something one step beyond Matt Christopher's books."—SLJ

"This engaging sports story gains depth from subplots involving Toby's tricky relationships with his former best friend and with the coach's daughter."–The Horn Book

"Looking for something to do during halftime of the March Madness basketball games? Read this book."-The Washington Post

"With so much written about the friction between girl friends, it's good to have a book that acknowledges that left-out feeling happens to boys, too."–Booklist