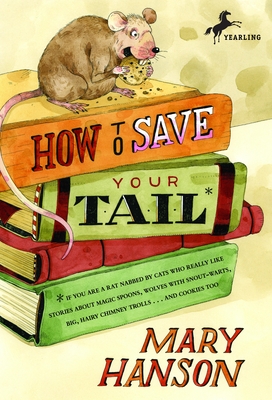 How to Save Your Tail*: If You Are a Rat Nabbed by Cats Who Really Like Stories about Magic Spoons, Wolves with Snout-Warts, Big, Hairy Chimne (Paperback)
If You Are a Rat Nabbed by Cats Who Really Like Stories about Magic Spoons, Wolves with Snout-Warts, Big, Hairy Chimne
Yearling Books, 9780440422280, 93pp.
Publication Date: October 14, 2008
Description
ONCE UPON A time, in a grand castle, there lived a rat named Bob, who was fond of baking and wild about reading. So begins Bob's quest to save himself from being eaten by Muffin and Brutus, the Queen's cats. How does Bob attempt to escape their claws? By telling them fractured fairy tales about his whole rat family (and feeding them cookies).
About the Author
Mary Hanson earned her library degree at the University of California, Los Angeles, and lives with her husband, two children, three cats, and one dog in Santa Barbara, California. She loves to read, spin gold, and eat cookies.
Praise For How to Save Your Tail*: If You Are a Rat Nabbed by Cats Who Really Like Stories about Magic Spoons, Wolves with Snout-Warts, Big, Hairy Chimne…
"Clever and cunning, this is a recipe for laugh-out-loud fun, especially as a read-aloud."—Kirkus Reviews, Starred

"Surprising and hilarious."—The Bulletin
Advertisement