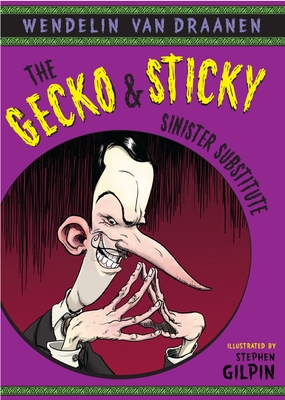 Sinister Substitute (Paperback)
Yearling Books, 9780440422440, 213pp.
Publication Date: September 13, 2011
Description
The Gecko & Sticky are a fabulous crime-fighting duo This quartet of funny adventures will appeal to fans of superheroes both young and old, and would make terrific all-family read-alouds. Dave Sanchez's most despised teacher, a gleeful frog dissector named Ms. Veronica Krockle, is absent. Her students are psyched But Sticky is suspicious. Especially when the substitute teacher turns out to be Damien Black--dastardly treasure hunter and master of disguise If Damien Black is in school, does that mean he's behind Ms. Krockle's absence? Could she have been kidnapped? Stashed away in the Black mansion? Oh yeah, that sounds about right. Dave and Sticky realize that if they want to get Damien Black out of their school, they'll have to rescue the horrid Ms. Veronica Kronckle. Don't miss the other Gecko & Sticky adventures:
1. The Villain's Lair,
2. The Greatest Power,
3. Sinister Substitute, and
4. The Power Potion From the Hardcover edition.
About the Author
WENDELIN VAN DRAANEN spent many years as a teacher before devoting herself to writing full-time. She loves reading, running, writing, and rock 'n roll! Her books for younger readers include The Gecko & Sticky quartet and The Shredderman quartet. For middle graders check out the Sammy Keyes mysteries and Swear to Howdy. For tweens and teens, look for Flipped, The Running Dream, Confessions of a Serial Kisser, and Runaway. From the Hardcover edition.
Advertisement