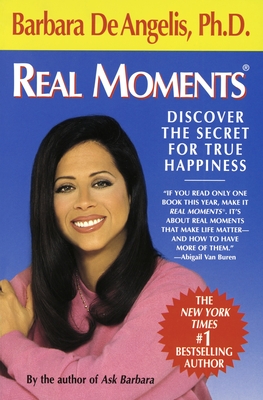 Real Moments: Discover the Secret for True Happiness (Paperback)
Discover the Secret for True Happiness
Dell, 9780440507291, 288pp.
Publication Date: October 1, 1995
Description
To many of us, the experiences that we grew up taking for granted leave become distant dreams in our adult lives: marriages that last a lifetime; safe neighborhoods to call home; the certainty that our children will have a better life than we did; and most of all, lots of time to spend as we wish, living for the moment. Instead, we find our time and energy spent recovering from the past or protecting ourselves from the future. The result is a desperate, sometimes dangerous, and often unsuccessful, search for meaning in our lives. In Real Moments, Barbara De Angelis defines happiness not as an acquisition, but as a skill--the skill of capturing every moment and living it completely. With insight, wisdom, and vision, she teaches us how to rediscover real moments with our mates and our children, with our work and our play, in sex and intimacy, and real moments with ourselves. It is an examination of our relationship with the process of living itself, offering inspiration as well as practical tools for creating more of one of the most precious moments of all--moments of true meaning in our lives.
About the Author
Barbara De Angelis, PhD, internationally recognized as one of the foremost experts on human relations and personal growth, is the author of the #1 New York Times blockbusters Secrets About Men Every Woman Should Know and Are You the One for Me? Her other bestsellers include Secrets About Life Every Woman Should Know, The Real Rules, Ask Barbara, Real Moments(R), Real Moments(R) for Lovers, and How to Make Love All the Time. She's also a co-author of Chicken Soup for the Couple's Soul. Through her books and award-winning television program and seminars, she has guided millions of people worldwide toward greater personal fulfillment in their relationships and in life.
Praise For Real Moments: Discover the Secret for True Happiness…
The New York Times Bestseller

"A brilliant, groundbreaking book that will fill your heart and nourish your spirit."--Deepak Chopra, M.D., author of Ageless Body, Timeless Mind

"If you read only one book this year, make it Real Moments.  It's about real moments that make life matter--and how to have more of them" --Abigail Van Buren
Advertisement