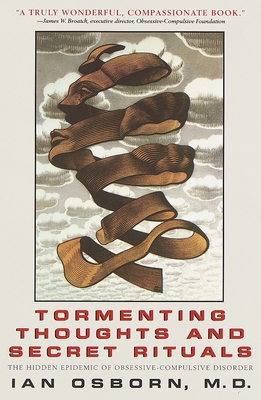 Tormenting Thoughts and Secret Rituals (Paperback)
The Hidden Epidemic of Obsessive-Compulsive Disorder
Dell, 9780440508472, 336pp.
Publication Date: April 13, 1999
* Individual store prices may vary.
Description
While on vacation, Raymond incessantly checked the carpets of Disney World looking for poison he had seen spilled there--in his mind.... Sherry was terrified of her thoughts about stabbing her baby daughter.... Jeff couldn't silence a mental voice urging him to have sex with men and animals....

Howard Hughes had it. So did historical figures Martin Luther and Ignatius of Loyola. They all suffered from obsessive-compulsive disorder (OCD)--as do over five million Americans who need to know that there is now hope and help. Ian Osborn, M.D., a specialist in OCD and a sufferer himself, has written the first comprehensive book on the experience, diagnosis, and treatment of OCD. He reveals recent discoveries about the disease as a biological disorder--a physical, not a psychological abnormality--and the exciting new therapies that have dramatically changed the future for OCD sufferers.

His wise, compassionate book includes:

Pencil-and-paper tests for self-diagnosis
Six steps to conquering OCD
Medication that works
Early signs that show OCD in children
Guidelines for family members
A comprehensive listing of where to find organizations and support groups--and more
About the Author
Ian Osborn, M.D., is a practicing psychiatrist at State College, Pennsylvania, and a specialist in the treatment of OCD. He lectures frequently to mental health professionals and to the general public.
Praise For Tormenting Thoughts and Secret Rituals: The Hidden Epidemic of Obsessive-Compulsive Disorder…
"A truly wonderful, compassionate book."
--James W. Broatch, executive director, Obsessive-Compulsive Foundation

"A splendid book on OCD--lively, lucid, informative, and scholarly."
--Ronald Pies, M.D., clinical professor of psychiatry, Tufts University School of Medicine

"A marvelous achievement--an excellent and very practical overview of OCD and its treatment."
--Jeffrey Schwartz, M.D., associate professor, UCLA School of Medicine