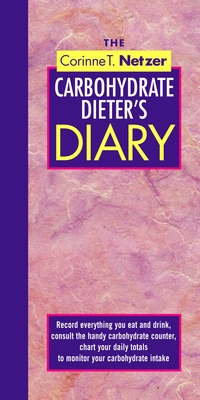 The Corinne T. Netzer Carbohydrate Dieter's Diary: Record Everything You Eat and Drink, Consult the Handy Carbohydrate Counter, Chart Your Daily Total (Paperback)
Record Everything You Eat and Drink, Consult the Handy Carbohydrate Counter, Chart Your Daily Total
Delta, 9780440508526, 176pp.
Publication Date: April 13, 1999
Description
Record what you eat and control your carbs
Record everything you eat and drink, consult the handy carbohydrate counter, chart your daily totals to monitor your carbohydrate intake.
It's easy to keep track of your carbohydrate intake with this handy, page-per-day diary. Now you can spot and eliminate trouble areas at a glance. Just jot down everything you eat and drink--including snacks --and follow your progress day by day with the book that helps you stay in control.
An easy-to-use system for recording your daily carbohydrate intake for up to 16 full weeks
Expert dieting hints to help you maintain your regimen
A weekly progress report to keep you informed and motivated
Includes a compact carbohydrate counter for quick reference.
About the Author
CORRINE T. NETZER is the author of dozens of books on diet and nutrition, including The Complete Book Of Food Counts, The Carbohydrate Counter, and The Corinne T. Netzer Dieter's Activity Diary. There are over 30 million of her books in print.
Advertisement