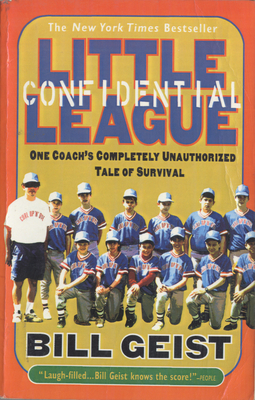 Little League Confidential: One Coach's Completely Unauthorized Tale of Survival (Paperback)
One Coach's Completely Unauthorized Tale of Survival
Dell Publishing Company, 9780440508779, 217pp.
Publication Date: March 1, 1999
Description
One coach's completely unauthorized tale of survival, set in the manicured sandlots of suburban New Jersey Bill Geist, semi-permanent coach of Curl Up 'N Dye's Fighting Hairdressers, brings us a riotously funny record of an institution and its inmates--the innocent kids, the ruthless coaches, the shameless moms, and the litigious dads. Just when it seems that Little League may be no place for a kid, this all-star line-up of conniving commissioners and mitt-impaired fielders sends the sport off and over the wall. Praise for Little League Confidential "Bill Geist is the funniest writer since Marcel Proust--I mean Mark Twain--no, make that Yogi Berra."--Russell Baker "A lighthearted romp . . . essential reading for seasons to come."--The New York Times Book Review "Very, very, very funny."--Larry King, USA Today
About the Author
Bill Geist is the bestselling author of eight books, including the New York Times bestsellers Little League Confidential, Way Off the Road, and Good Talk Dad: The Birds and the Bees, and Other Conversations We Forgot to Have. Geist has contributed stories to the New York Times, the New York Times Magazine, The New Yorker and other publications.
Advertisement