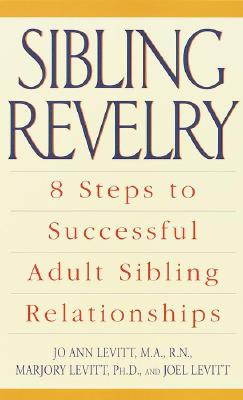 Sibling Revelry: 8 Steps to Successful Adult Sibling Relationships (Paperback)
8 Steps to Successful Adult Sibling Relationships
Dell, 9780440508960, 304pp.
Publication Date: July 3, 2001
* Individual store prices may vary.
or
Not Currently Available for Direct Purchase
Description
Experience the miracle of healing with a unique step-by-step program for enhancing adult sibling relationships -- created by siblings for siblings

Much has been written about the relationships of parents and children. But the unsung chord in all of our adult relationships, professional and personal, is rooted in the sibling connection. In this extraordinary book based on their Sibling Revelry workshops, authors -- and siblings -- Jo Ann, Marjory, and Joel Levitt re-create the seminars that have helped many strengthen the bonds of their adult sibling relationships.
In eight clearly focused steps, with added material for home study, the authors show how to transform sibling rivalry into extraordinary, nurturing adult bonds that will enhance all other relationships in your life. Now you can regain the closeness you and your siblings once shared, heal old wounds, and pave the way to a happier, healthier future. Learn how to:
* Define your relationship -- Unload the myths of your shared past...and discover who you are to each other now
* Witness the effect of old rivalries -- And use them as a springboard to great adult relationships
* Envision a new future -- Break the habits that hold your relationship firmly in place...and create a powerful new vision for yourself and your family
* Explore new modes of contact -- Examine the "role" you play in your family and free yourself from damaging old patterns
* Heal wounds and misunderstandings -- Resolve old conflicts as you sort through old issues of fear, anger, guilt, and hurt
* Invent new family legends -- Uncover the myths and legends that have shaped your relationship...then create new ones
* Make room for differences -- Clear out "sibling clutter" and accept your siblings exactly as they are
* Honor your strengths -- Celebrate the positive qualities each sibling brings to the relationship...and set the stage for a lifelong connection.
About the Author
Jo Ann "Atma" Levitt, M.A., R.N., works as a senior teacher at the Kripalu Center for Yoga and Health and as a nurse for Canyon Ranch, both in Lenox, Massachusetts. She has written two cookbooks and a book on meditation, and has led many writers' retreats and programs on health and healing. She also maintains a private practice in counseling and intuitive healing. Marjory Levitt, Ph.D., is a licensed psychologist and consultant living in Philadelphia. In addition to her private practice, she has designed and run programs for children and adults for over twenty years. She is also an adjunct professor at Temple University. Joel Levitt lives in Philadelphia and is a management consultant in the facilities engineering field. He has written three technical books, over a dozen journal articles for the technical press, and has produced and directed five self-study books on audiotape. He is a regular speaker at more than twenty seminars and conferences a year.
Advertisement