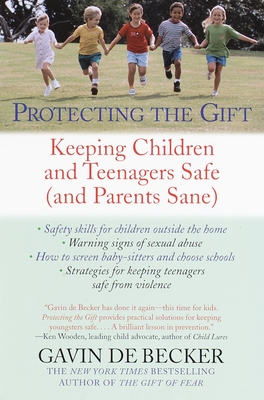 Protecting the Gift
Keeping Children and Teenagers Safe (and Parents Sane)
Paperback

* Individual store prices may vary.
Other Editions of This Title:
Digital Audiobook (7/4/2000)
Description
Safety skills for children outside the home
Warning signs of sexual abuse
How to screen baby-sitters and choose schools
Strategies for keeping teenagers safe from violence

All parents face the same challenges when it comes to their children's safety: whom to trust, whom to distrust, what to believe, what to doubt, what to fear, and what not to fear. In this empowering book, Gavin de Becker, the nation's leading expert on predicting violent behavior and author of the monumental bestseller The Gift of Fear, offers practical new steps to enhance children's safety at every age level, giving you the tools you need to allow your kids freedom without losing sleep yourself. With daring and compassion, he shatters the widely held myths about danger and safety and helps parents find some certainty about life's highest-stakes questions:

How can I know a baby-sitter won't turn out to be someone who harms my child? (see page 103)
What should I ask child-care professionals when I interview them? (see page 137)
What's the best way to prepare my child for walking to school alone? (see page 91)
How can my child be safer at school? (see page 175)
How can I spot sexual predators? (see page 148)
What should I do if my child is lost in public? (see page 86)
How can I teach my child about risk without causing too much fear? (see page 98)
What must my teenage daughter know in order to be safe? (see page 191)
What must my teenage son know in order to be safe? (see page 218)
And finally, in the face of all these questions, how can I reduce the worrying? (see page 56)
Praise For Protecting the Gift: Keeping Children and Teenagers Safe (and Parents Sane)…
"Gavin de Becker has done it again—this time for kids. Protecting the Gift provides practical solutions for keeping youngsters safe....A brilliant lesson in prevention."—Ken Wooden, leading child advocate, author of Child Lures

"A must for all parents raising children in an increasingly violent society."—FBI behavioral scientist Robert Ressler

"Everyone in contact with children should read this important book. It can help save lives."—Publishers Weekly, starred review

"Dynamic, inspiring and practical... and an entertaining and gripping read. This is a must read for every parent or anyone who cares for kids."—Ellen Snortland, author of Beauty Bites Beast: Awakening the Warrior Within Women and Girls
Dell, 9780440509004, 352pp.
Publication Date: May 9, 2000
About the Author
Gavin de Becker is a three-time presidential appointee whose pioneering work has changed the way our government evaluates threats to our nation's highest officials. His firm advises many of the world's most prominent media figures, corporations, and law enforcement agencies on predicting violence, and it also serves regular citizens who are victims of domestic abuse and stalking. De Becker has advised the prosecution on major cases, including the O.J. Simpson murder trial. He has testified before many legislative bodies and has successfully proposed new laws to help manage violence.