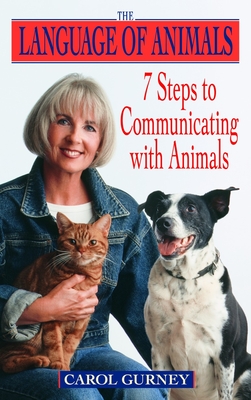 The Language of Animals: 7 Steps to Communicating with Animals (Paperback)
7 Steps to Communicating with Animals
Dell, 9780440509127, 272pp.
Publication Date: August 7, 2001
Description
A Step-by-Step Program for Communicating With Your Animals

The human/animal spiritual connection is a powerful one. In this astounding guide, renowned animal communicator Carol Gurney draws upon fifteen years of successful communication with animals to offer animal lovers what they've always longed for: a simple, effective method for "listening to" and communicating with their animals. Based on her successful 7-step HeartTalk ProgramSM, which has already helped thousands of people understand their basic telepathic connection with animals, Gurney outlines the principles of "heart-to-heart" communication, showing you how to open your heart to a more meaningful connection with the animals you love. Learn how to: * Understand your animal's needs, feelings, and innermost thoughts so you can discover who he or she really is * Develop long-distance communication skills to locate lost or stolen animals * Understand animals' physical feelings so you can help comfort them when they are sick or injured * Emotionally prepare yourself for the death of your beloved animal * Discover how animals can be your best teachers in helping you to love yourself * Actually communicate telepathically with the loving beings that share your world Animals are not only our loyal companions; they are our guides, our healers, our link to the simple wisdom of the natural world. Filled with amazing real-life stories of human/animal communication, The Language of Animals is a must for every animal enthusiast-and a loving gift to the engaging, expressive animals who have so much to share.
About the Author
Carol Gurney is one of the foremost animal communicators in the world, who, after years as an advertising executive, developed the 7-step HeartTalk ProgramSM to help people make a spiritual connection with their animal companions. Internationally, Carol presents her program through lectures, workshops, audio and videotapes, and provides consultations. She has been a popular guest on television and radio, and has appeared in numerous publications. Carol has become well-known for teaching everyone from beginners to professional animal communicators.
Praise For The Language of Animals: 7 Steps to Communicating with Animals…
"Of the many new books on interspecies communication, Gurney's is one of the most down-to-earth and thorough.... [H]er book offers clear steps for reaching animals and will enhance readers' understanding of the creatures in their lives.... helpful and enthralling."
— Publishers Weekly

"Carol brings her special gift to animal guardians with this book. I have found her insights and communications very helpful with many of my patients. Her gentle and caring touch in communicating with animals brings comfort to their guardians, and her perceptions and insights can provide useful information to the holistic veterinary practitioner."
— Charles E. Loops, D.V.M.

"In The Language of Animals, Carol beautifully and poignantly shares her insightful communication exercises and heartfelt program. Be reading this book, you too can enjoy a deeper connection to the magical kingdom of animals and further understand these incredible healers of the heart."
— James Van Praagh, New York Times bestselling author of Talking to Heaven

"I took a workshop with Carol Gurney many years ago, and it totally turned around how I relate to animals. In this wonderful, warm book Carol will teach you the skills of communication with animals, and you will be forever grateful."
— Louise L. Hay, author of You Can Heal Your Life

"The Language of Animals offers us great possibilities in deepening our connections with our kindred spirits. Carol's program can help us get in touch with levels of connection beyond our normal recognition."
— Allen M. Schoen, D.V.M., MS, author of Kindred Spirits, and Director of Veterinary Institute for Therapeutic Alternatives (VITA)

"Carol Gurney can really express herself when it comes to teaching the art of communicating with animals. And believe me, it works! Carol's HeartTalk ProgramSM goes beyond talking with animals. It is a marvelous way to expand our relationships with the animals in our lives."
— Arthur Myers, author of Communicating with Animals



Advertisement