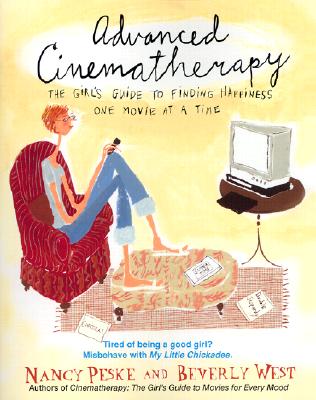 Advanced Cinematherapy: The Girl's Guide to Finding Happiness One Movie at a Time (Paperback)
The Girl's Guide to Finding Happiness One Movie at a Time
Dell, 9780440509158, 240pp.
Publication Date: February 26, 2002
* Individual store prices may vary.
or
Not Currently Available for Direct Purchase
Description
MOVIES ARE MORE THAN ENTERTAINMENT-THEY'RE A BUBBLE BATH FOR THE SOUL. On the verge of yet another major life change? Recovering from a rough day at the office? Or trying to figure out what makes him tick? Take heart-no matter what your issue, the help you need is no farther away than your VCR. From the dynamic duo who brought you the bestselling Cinematherapy comes Advanced Cinematherapy, a video guide that prescribes the perfect movie to cure whatever ails you. Whether you're in the midst of a midlife crisis and need to join the parade and march to your own drummer (Hello, Dolly ), or vacillating between gullible and hyperparanoid and need to listen to your instincts (Sudden Fear), in Advanced Cinematherapy you'll find movies that will help you laugh at your troubles or confront your issues, and inspire you to grow. Struggling with growing pains? Watch a Coming of Age and Coming Out movie like But I'm a Cheerleader and celebrate your true colors. Ready to cry a river? Immerse yourself in a Cathartic Weeper like Penny Serenade and let it all out. Face-to-face with a nuclear family meltdown? Pop in a Dysfunctional Family movie like Addams Family Values and laugh at your own kooky clan. Here are dozens of new reviews of classic and contemporary movies that confront women's issues and nurture women's souls. Feed your wildest fantasies, claim your power, and overcome your losses, all by taking charge of your own remote control AND DON'T MISS: Bev's Culinarytherapy: Foods for Every Mood, Nancy's Momentous Minutiae, Diva Diamonds, Hoopskirt Dreams, the Handy Hunk Chart, and much, much more....
About the Author
Beverly West is the coauthor, along with Nancy Peske, of Meditations for Men Who Do Next to Nothing (And Would Like to Do Even Less); How to Satisfy a Woman Every Time on Five Dollars a Day; Frankly Scarlett, I Do Give a Damn! Classic Romances Retold; and Cinematherapy: The Girl's Guide to Movies for Every Mood. She lives in New York City. Nancy Peske is the coauthor of the Cinematherapy series. She lives in Shorewood, Wisconsin, with her husband and son, who was diagnosed with SI dysfunction when he was two.
Advertisement