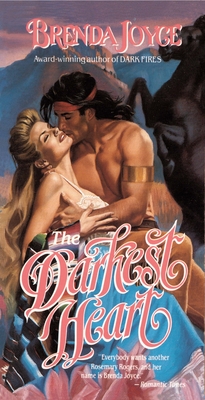 The Darkest Heart (Paperback)
Dell, 9780440613428, 432pp.
Publication Date: December 1, 1998
Description
She was called the Belle of the Southwest.

Beautiful Candice Carter enjoyed the attentions of every eligible man in the New Mexico Territory, until her reckless heart led her to near death in the desert. But rescue came from Jack Savage, the hard-muscled Indian warrior who both terrified and fascinated her. Suddenly she was at the mercy of an arrogant outsider whose forbidden passion she dared not admit she wanted to taste. He was called Savage. From the moment he saw her, Jack branded Candice his woman. No matter that he could hang for touching her. Nothing could stop him from making her his reluctant bride. Vowing to teach her every sensual pleasure, he set out to tame the fiery spirit of the blond beauty who had stolen his soul. But as war raged between the white man and the Apache, he found himself torn between duty to his people and a forbidden love he could not resist and could not live without.
About the Author
Brenda Joyce is the New York Times and USA Today bestselling author of forty-nine novels and five novellas. There are more than fourteen million copies of her novels in print and she is published in more than a dozen countries. A native New Yorker, she now lives in southern Arizona with her son, dogs, and numerous Arabian and half-Arabian reining horses. Brenda divides her time between her twin passions: writing powerful love stories and her quest to become a nationally ranked top-ten equestrian.
Advertisement