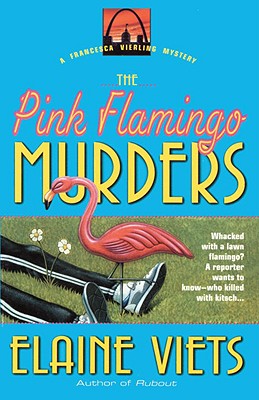 The Pink Flamingo Murders (Paperback)
Dell, 9780440613510, 272pp.
Publication Date: August 14, 1998
Description
Whacked with a lawn flamingo? A reporter wants to know--who killed with kitsch...
The rehabilitation of North Dakota Place is a feel-good story--the kind
St. Louis City Gazette
columnist Francesca Vierling likes to write. Grand houses restored to former glory. Pride in a neighborhood--and, like all good stories, this one has a hero, the woman who made it all happen, the city's guardian of good taste. Some call her a rehabbing saint, others a fanatic.
The first death on North Dakota Place was certainly shocking but not entirely unwelcome--after all, the victim was a cranky old man who had been painting his house purple. The second death, of a drug dealer, brings tacit approval--and growing suspicion. But all bets are off when another victim is found, a socialite unceremoniously whacked with a pink lawn flamingo. Now the neighbors want Francesca to investigate. But her boyfriend wants her to commit to marriage, not crime. Soon the gutsy reporter is experiencing a deepening personal crisis--and something more heinous than vinyl siding: the dark secrets of heart, home, and blighted dreams.
From the Paperback edition.
About the Author
A bona fide celebrity in her hometown of St. Louis, Elaine Viets was recently voted one of its five "most powerful" citizens by the Riverfront Times (ahead of Congressmen Thomas Eagleton and William Clay). In addition to writing two previous Francesca Vierling mysteries, Backstab and Rubout, she is the author of the humor book How to Commit Monogamy. From the Paperback edition.
Praise For The Pink Flamingo Murders…
"Viets . . . delves into the vibrancy of a city that has more than just a big Arch and breweries while creating realistic characters."
--Ft. Lauderdale Sun-Sentinel


From the Paperback edition.
Advertisement