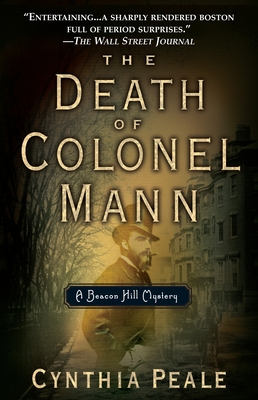 The Death of Colonel Mann (Paperback)
Dell, 9780440613985, 352pp.
Publication Date: January 9, 2001
Description
Behind the curtained windows of Victorian Boston is a world of passion, scandal ... and murder. In life, he was the most despised man in Boston, publisher of the town's scurrilous gossip sheet -- and buyer and seller of people's most scandalous indiscretions. Now Colonel William d'Arcy Mann lies on the floor of his fashionable hotel suite, the victim of a single gunshot wound to the heart. Addington Ames came to recover a packet of love letters written by his young cousin, Val, that had fallen into the blackmailing colonel's possession. But when he discovers Mann's corpse instead, Ames suddenly finds himself at the center of a murder inquiry, his name splashed across the town newspapers. With Val facing public disgrace -- on the eve of marriage to an impeccable member of Brahmin society -- Ames's only hope is to find the damning missives, which he believes vanished with the killer. With the help of his sister, Caroline, and their boarder, Dr. John MacKenzie, he moves through Boston's most prominent social circles in search of a well-concealed murderer whose final act of violence will leave no life -- highborn or low -- untouched... From the Paperback edition.
About the Author
Cynthia Peale is the pseudonym of Nancy Zaroulis, author of Call the Darkness Light and The Last Waltz, among other successful novels. She lives outside Boston, where she is at work on the second in her Beacon Hill mystery series, Murder at Bertram's Bower.
Praise For The Death of Colonel Mann…
"Entertaining ... most agreeable company in a sharply rendered Boston full of period surprises."
-- The Wall Street Journal

"Engaging characters, vividly of their time and place, and yet fighting evils that hurt and endanger us just as much today."
-- Anne Perry, author of Half Moon Street

"A fast-paced and complex tale."
-- Rocky Mountain News

A selection of the Mystery Guild


From the Paperback edition.
Advertisement