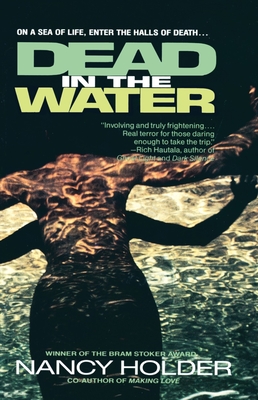 Dead in the Water (Paperback)
Delta, 9780440614074, 428pp.
Publication Date: March 1, 1995
* Individual store prices may vary.
Description
From Bram Stoker Award–winning author Nancy Holder comes a chilling novel of horror on the sea. This is how it will be when you drown. . . .

At a sun-washed dock in Long Beach, California, the creaky freighter, Morris, loaded with brightly colored boxcars, takes on passengers. Among the vacationers: a disgruntled yuppie couple, a child stricken by cancer, a woman searching for her lost husband, and a female cop packing a .38 and bitter memories of a boy who drowned before her eyes.

In seas of love and blood they will drown, one at a time. And for their company, they will have those who have drowned before them—and those who have received a message in a bottle. . . .

Praise for Dead in the Water

"Dead in the Water is saturated with brooding, claustrophobic, hallucinatory menace. Nancy Holder's vivid voice and sharp characterization make it all real. I'm never going on a boat again!"—Poppy Z. Brite

"Dead in the Water is an involving and truly frightening book. This is the kind of horror that gets underneath your skin and works its way into your soul. Real terror . . . for those daring enough to take the trip. I enjoyed it immensely."—Rick Hautala

"Nancy Holder proves why she's an award-winning author. Eerie—effective—excellent! A chilling combination of Lifeboat, Ship of Fools, and John Carpenter's The Fog, Dead in the Water keeps you treading water with every page, gasping for breath, sucking you under. A nightmare cruise into black waters and terrifying depths."—Lisa Cantrell

"I'd feel safer in the water with Jaws."—Brian Lumley

"A nasty tale well told, infused with the eerily surreal quality of fevered nightmares. Discovering Nancy Holder is like finding a vein of true horror gold."—Cheri Scotch

"Man the lifeboats. Don your life jacket. Nancy Holder takes you on a cruise you won't soon forget. Scary stuff."—Maxine O'Callaghan

"I couldn't put it down! A whale of a tale. A page-turner—the first sentence will hook you and what follows will reel you in. Dead in the Water is fast-paced and exciting, mysterious and spooky!"—Chris Curry

"Nancy Holder enshrouds fascinating characters within a chilling atmosphere and creates a relentless tale of terror at sea. Holder is one of my favorite writers."—Elizabeth Massie
About the Author
Nancy Holder is the New York Times bestselling author of the Wicked series (with coauthor Debbie Viguié) and the Possessions series. She has written many novels and short stories set in the Buffy the Vampire Slayer, Angel, Hellboy, and Smallville universes. A four-time winner of the Bram Stoker Award from the Horror Writers Association, she is a former director of children's ministries for her local United Methodist church. She lives in San Diego with her daughter, Belle, two cats, and Panda Monium Holder, a Cardigan Welsh Corgi.
Praise For Dead in the Water…
"Dead in the Water is saturated with brooding, claustrophobic, hallucinatory menace. Nancy Holder's vivid voice and sharp characterization make it all real. I'm never going on a boat again!"—Poppy Z. Brite
 
"Dead in the Water is an involving and truly frightening book. This is the kind of horror that gets underneath your skin and works its way into your soul. Real terror . . . for those daring enough to take the trip. I enjoyed it immensely."—Rick Hautala
 
"Nancy Holder proves why she's an award-winning author. Eerie—effective—excellent! A chilling combination of Lifeboat, Ship of Fools, and John Carpenter's The Fog, Dead in the Water keeps you treading water with every page, gasping for breath, sucking you under. A nightmare cruise into black waters and terrifying depths."—Lisa Cantrell
 
"I'd feel safer in the water with Jaws."—Brian Lumley
 
"A nasty tale well told, infused with the eerily surreal quality of fevered nightmares. Discovering Nancy Holder is like finding a vein of true horror gold."—Cheri Scotch
 
"Man the lifeboats. Don your life jacket. Nancy Holder takes you on a cruise you won't soon forget. Scary stuff."—Maxine O'Callaghan
 
"I couldn't put it down! A whale of a tale. A page-turner—the first sentence will hook you and what follows will reel you in. Dead in the Water is fast-paced and exciting, mysterious and spooky!"—Chris Curry
 
"Nancy Holder enshrouds fascinating characters within a chilling atmosphere and creates a relentless tale of terror at sea. Holder is one of my favorite writers."—Elizabeth Massie
 
"Dead in the Water is a superbly inventive mix of sea-lore old and new. If you've ever wondered what sails within the fog, beyond the horizon, or drifts beneath the deceptive calm of the rippling surface, then climb aboard. Nancy Holder has charted these waters with a master's touch."—Brian Hodge