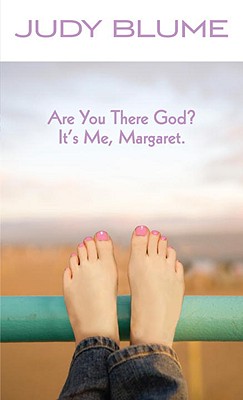 Are You There God? It's Me, Margaret (Mass Market Paperback)
Laurel Leaf, 9780440904199, 160pp.
Publication Date: October 1, 1991
* Individual store prices may vary.
or
Not Currently Available for Direct Purchase
Description
Margaret Simon, almost twelve, has just moved from New York City to the suburbs, and she's anxious to fit in with her new friends. When she's asked to join a secret club she jumps at the chance. But when the girls start talking about boys, bras, and getting their first periods, Margaret starts to wonder if she's normal. There are some things about growing up that are hard for her to talk about, even with her friends. Lucky for Margaret, she's got someone else to confide in . . . someone who always listens.
About the Author
Dear Friends,

When I was growing up, I dreamed about becoming a cowgirl, a detective, a spy, a great actress or a ballerina. Not a dentist, like my father, or a homemaker, like my mother--and certainly not a writer, although I always loved to read. I didn't know anything about writers. It never occurred to me they were regular people and that I could grow up to become one, even though I loved to make up stories inside my head.

I made up stories while I bounced a ball against the side of our house. I made up stories playing with paper dolls. And I made them up while I practiced the piano, by pretending to give piano lessons. I even kept a notebook with the names of my pretend students and how they were doing. I always had an active imagination. But I never wrote down any of my stories. And I never told anyone about them.

When I grew up, my need for story telling didn't go away. So when my own two children started pre-school I began to write and I've been writing ever since! My characters live inside my head for a long time before I actually start a book about them. Then, they become so real to me I talk about them at the dinner table as if they are real. Some people consider this weird. But my family understands.

Many of my books are set in New Jersey because that's where I was born and raised. I lived there until my kids finished elementary school. Then we moved to new Mexico, the setting for "Tiger Eyes." I also spent two years in Connecticut, where "Just as Long as We're Together" and "Here's to You, Rachel Robinson" are set. And "Fudge-a-mania" grew out of a summer spent in Maine. I don't think I could set a book in a place without knowing it really well.

Now I live in New York City with my husband, George Cooper, who writes nonfiction. He thinks I'm lucky because I get to make things up. I think it would be fun to do research and discover stories, like George. Between us, we have three grown children and one incredible grandchild whose first word was book! That makes sense since we all love to read to him.

Your letters are such an important part of my life! I wish there were time to answer more personally. But finding the time to write has become a real problem--and there are still so many stories I want to tell! I hope you understand. I'm going to try and answer as many of your questions as possible below.

So for now, good-bye. And keep reading!

Love,

Judy Blume
Advertisement