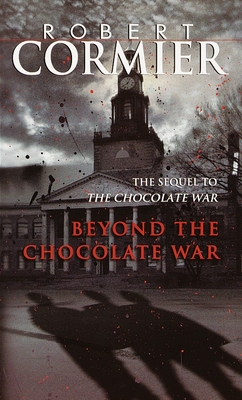 Beyond the Chocolate War (Mass Market)
Laurel Leaf, 9780440905806, 288pp.
Publication Date: August 1, 1986
Other Editions of This Title:
Prebound (8/1/1986)
* Individual store prices may vary.
Description
The school year is almost at an end, and the chocolate sale is past history.  But no one at Trinity School can forget The Chocolate War.

Devious Archie Costello, commander of the secret school organizationcalled the Virgils, stall has some torturous assignments to hand out before he graduates.  In spite of this pleasure, Archie is troubled by his right-hand man, Obie, who has started to move away from the Virgils.  Luckily Archie knows his stooges will fix that.  But won't Archie be shocked when he discovers the surprise Obie has waiting for him?

And there are surprises waiting for others.  The time for revenge has come to those boys who secretly suffered the trials of Trinity.  The fuse is set for the final explosion.  Who will survive?
About the Author
Robert Cormier has written several highly acclaimed novels for young adults and received numerous awards, including the ALA Best Book for Young Adults, ALA Notable Book of the Year, School Library Journal Best Book of the Year, and a New York Times Outstanding Book of the Year.  Mr. Cormier lives in Leonminster, Massachusetts.
Praise For Beyond the Chocolate War…
"Robert Cormier has written a brilliant sequel, more finely crafted, denser in plotting, and more subtle in character nuance than at his debut ten years ago as a YA author.  Beyond the Chocolate War is a Newberry Medal candidate-if not the hands-down winner."-Children's Book Review Service

"No one has read Robert Cormier's young adult novel The Chocolate War can forget the anguish of that fight under the spotlights at the Trinity School...Mr. Cormier is almost unique in his powerful integration of the personal, politcal, and moral.  Beyond the Chocolate War is very much a sequel."-The New York Times Book Review

"Readers will be riveted to this suspensful novel...After reading this sequel readers will probably demand to read its predecessor if they haven't already read it.  The best of Cormier's highly acclaimed novels..."-Voice of Youth Advocates
or
Not Currently Available for Direct Purchase