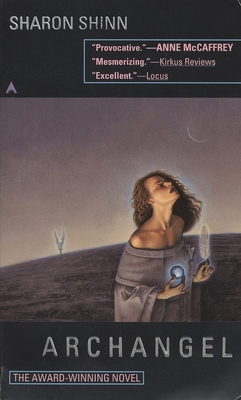 Archangel (Mass Market)
Ace, 9780441004324, 400pp.
Publication Date: April 1, 1997
Other Editions of This Title:
MP3 CD (5/17/2016)
* Individual store prices may vary.
Description
From national bestselling author Sharon Shinn comes a stunningly beautiful novel of a distant future—where the fate of the world rests on the voice of an angel...

Through science, faith, and force of will, the Harmonics carved out for themselves a society that they conceived as perfect. Diverse peoples held together by respect for each other. Angels to guard the mortals and mystics to guard the forbidden knowldge. Jehovah to watch over them all...

Generations later, the armed starship Jehovah still looms over the planet of Samaria, programmed to unleash its arsenal if peace is not sustained. But with the coming of an age of corruption, Samaria's only hope lies in the crowning of a new Archangel. The oracles have chosen Gabriel for this honor, and further decreed that he must first wed a mortal woman named Rachel.

It is his destiny and hers. And Gabriel is certain that she will greet the news of her betrothal with enthusiasm, and a devotion to duty equal to his own.

Rachel, however, has other ideas...


Winner of the William Crawford Award for Achievement in Fantasy
Nominated for the John W. Campbell Award for Best New Writer 
About the Author
Sharon Shinn is the national bestselling author of the Elemental Blessings novels, as well as the Shifting Circle novels. Her first novel, The Shape-Changer's Wife, was a nominee for Locus's Best First Fantasy Novel of 1995. She has won the William L. Crawford Award for Outstanding New Fantasy Writer, and was twice nominated for the John W. Campbell Award for Best New Writer. She has also received an RT Book Reviews Reviewers' Choice Award and won RT Book Reviews's 2010 Career Achievement Award in the Sci-Fi/Fantasy category.
Praise For Archangel…
"I was fascinated by Archangel. Its premise is unusual, to say the least, its characters as provocative as the action. I was truly deeply delighted."—Anne McCaffrey

"Taut, inventive, often mesmerizing, with a splendid pair of predestined lovers."—Kirkus Reviews

"Displaying sure command of characterization and vividly imagined settings, Shinn absorbs us in the story...an entertaining SF-fantasy blend that should please fan of both genres."—Booklist

"Excellent world building, charming characterizations and a sweet plot...a garden of earthly delights."—Locus

"Completely captivating."—Fantasy & Science Fiction