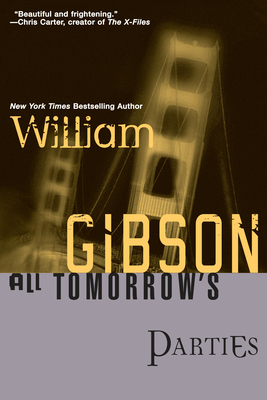 All Tomorrow's Parties (Bridge Trilogy #3)
Paperback

* Individual store prices may vary.
Other Editions of This Title:
Mass Market (2/4/2003)
Compact Disc (9/1/2013)
Description
"The ferociously talented Gibson delivers his signature mélange of technopop splendor and post-industrial squalor" (Time) in this New York Times bestseller that features his hero from Idoru...

Colin Laney, sensitive to patterns of information like no one else on earth, currently resides in a cardboard box in Tokyo. His body shakes with fever dreams, but his mind roams free as always, and he knows something is about to happen. Not in Tokyo; he will not see this thing himself. Something is about to happen in San Francisco.
 
The mists make it easy to hide, if hiding is what you want, and even at the best of times reality there seems to shift. A gray man moves elegantly through the mists, leaving bodies in his wake, so that a tide of absences alerts Laney to his presence. A boy named Silencio does not speak, but flies through webs of cyber-information in search of the one object that has seized his imagination. And Rei Toi, the Japanese Idoru, continues her study of all things human. She herself is not human, not quite, but she's working on it. And in the mists of San Francisco, at this rare moment in history, who is to say what is or is not impossible...
Praise For All Tomorrow's Parties (Bridge Trilogy #3)…
"All Tomorrow's Parties is immensely engaging, alive on every page and as enjoyable a weekend entertainment as one could want."—The Washington Post Book World
 
"Gibson, one of science fiction's greatest literary stylists, is at his best [when] he offers visceral detail even when promising transcendent change—a moment in the near future when the fabric of daily life will twist profoundly."—Wired 

"Moves at warp speed...[Gibson] is a witty and compelling storyteller."—Los Angeles Times
 
"[A] hard-edged and grimly beautiful piece of work."—Chicago Tribune
 
"Gibson has done it again."—Time Out New York

"A creepily plausible near-future of nanotechnology and virtual-reality pop idols, delineated in Gibson's customary diamond-sharp prose as the plot hurtles toward existential apocalypse."—Elle

"Ultra-cool cyberpunk...this familiar, vigorous, vividly realized scenario is set forth in the author's unique and astonishingly textured prose."—Kirkus Reviews

"Gibson's rich protopointillism coins a wireless future where reality is only proxy and proviso. Made all the more beautiful and frightening by its probability, and by characters who somehow tweeze hope from the polymer."—Chris Carter, creator of The X-Files
Ace, 9780441007554, 304pp.
Publication Date: August 1, 2000
About the Author
William Gibson's first novel, Neuromancer, won the Hugo Award, the Nebula Award, and the Philip K. Dick Award. He is the New York Times bestselling author of Count Zero, Burning Chrome, Mona Lisa Overdrive, Virtual Light, Idoru, All Tomorrow's Parties, Pattern Recognition, Spook Country, Zero History, Distrust That Particular Flavor, and The Peripheral. He lives in Vancouver, British Columbia, with his wife.