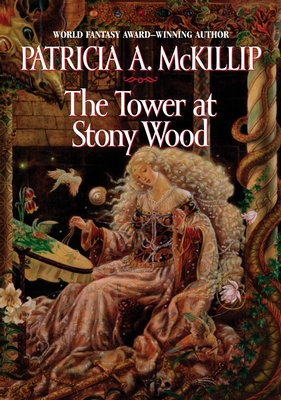 The Tower at Stony Wood
Paperback

* Individual store prices may vary.
Other Editions of This Title:
MP3 CD (10/11/2016)
Description
She saw the knight in the mirror at sunset…
During the wedding festivities of his king, Cyan Dag, a knight of Gloinmere, is sought out by a mysterious bard and told a terrifying tale: that the king has married a false queen—a lie cloaked in ancient and powerful sorcery. Spurred on by his steadfast honor and loyalty, Cyan departs on a dangerous quest to rescue the real queen from her tower prison, to prevent war, and to awaken magic in a land that has lost its way…
Praise For The Tower at Stony Wood…
"The real strengths of the book are the splendor of its imagery, the elegance of its prose, and the character of Cyan, whose own nobility, rather than anything external, holds the key to the success of his quest."—
Booklist
"Mesmerizing and unforgettable—a true flowering of a major talent."—The Kirkus Reviews
"A new book from the pen of Patricia McKillip is always a thing of beauty, and…The Tower at Stony Wood is no exception…Ms. McKillip is in fine form indeed, creating one of her most appealing heroes and an ambiance of pure enchantment for lucky readers."—Romantic Times
"An elegant, eloquent fantasy…The Tower at Stony Wood, a beautiful fantasy about the power of story in our lives and how sometimes the purpose of a life is simply to live it, is McKillip at her best, and will only enhance her already impressive reputation."—Locus
"Filled with beautiful ideas and images…reads like a dream…Patricia A. McKillip is one of the best writers the genre has to offer."—SF Site
"Patricia A. McKillip weaves words like the lady in the tower weaves thread, making the mundane into a varicolored magical tapestry. Beautiful words and a fantastical story make The Tower at Stony Wood an ever new and always enduring faerie tale…She promises an heroic fantasy, and she more than delivers on her promise."—BookBrowser
"[McKillip] continues to produce compelling, finely crafted fantasy with an intimacy and lyricism few can match…[Her] latest fantasy presents a complex multi-storied plot which reveals as much about human nature as it does about magic and the truth behind illusions."—Millenium SF & Fantasy
Ace, 9780441008292, 304pp.
Publication Date: May 1, 2001
About the Author
Patricia A. McKillip is a winner of the World Fantasy Award, and the author of many fantasy novels, including The Riddlemaster of Hed trilogy, Stepping from the Shadows, and The Cygnet and the Firebird. She lives in Oregon.