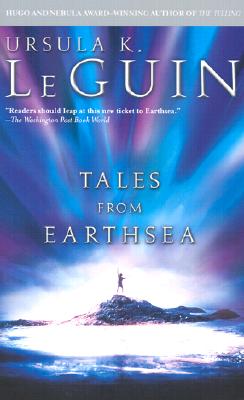 Tales from Earthsea
Paperback

* Individual store prices may vary.
Other Editions of This Title:
Mass Market (9/11/2012)
Hardcover (9/11/2012)
Mass Market Paperback (10/28/2003)
Hardcover (5/4/2001)
Prebound (10/28/2003)
Prebound (9/11/2012)
Description
"In this stellar collection…Ursula K. Le Guin makes a triumphant return to the magic-drenched world of Earthsea."* Featuring the award-winning author's new Earthsea novella, two original stories and two classic tales, as well as new maps and a special essay on Earthsea's history, languages, literature and magic, "the publication of this collection is a major event in fantasy literature." (* Publishers Weekly starred review)
Praise For Tales from Earthsea…
"A writer of depth who recognizes that not all fantasy venues are created equal…Le Guin's combination of opaque simplicity and transparent complexity, the quotidian and the miraculous, as well as her sharp and subtle characterizations, make for stories that stand shoulder to shoulder with ancient archetypal fairy tales and fables." —The Washington Post Book World

"In the canon of great adult fantasy literature, right next to Tolkien…If you've had enough of Harry Potter-style kid-wizardry, Le Guin offers a powerful tonic. These tales are intense, moving, engaging and best of all, character-driven: Le Guin knows people, wizards or not." —The Boulder Daily Camera

"Tales from Earthsea…has poetry and true magic. Furthermore, it has a great writer's love of an imaginary land that once existed only in her mind and now exists as a treasure in the real world for all lovers of fantasy, today and tomorrow and forever." —The Orlando Sentinel

"Earthsea's magic serves as a metaphor for the writer's own sorcery…there is no hint of by-the-numbers allegory here. This book should appeal to two entirely different sets of readers. Those familiar with the earlier Earthsea books will rejoice in the way Le Guin fills in some of the chronological blanks. Readers coming upon Earthsea for the first time will find stories about strong characters facing decisions that, while they arise from purely personal conflicts, always have the potential to affect the fate of the world…Memorable." —The New York Times Book Review

"Takes readers back into the past of the author's imaginary universe to relate the founding of a school of magic…and the story of a young wizard who became a legend…This volume not only stands alone but also serves as an introduction to new readers. Strong work from a master storyteller; highly recommended." —Library Journal

"Long before Harry Potter ever set foot in Hogwarts…there was a school for wizards in a place called Earthsea. The invention of grande dame of letters Ursula K. Le Guin, Earthsea is a realm that has been compared to Tolkien's Middle Earth and C.S. Lewis's Narnia, a place of high fantasy that generated a series of award-winning, enduring bestsellers…all beloved by a wide audience of adults as well as younger readers." —Publishers Weekly

"Le Guin is a marvelously astute observer of human nature, and these tales derive their wonder not so much from magic as the strength and dignity of people…she conveys powerful emotions and landscapes—both lovely and despoiled—with simple, evocative language; sometimes her words are breathtakingly apt and beautiful." —The Boulder Daily Camera

"A treasure…at the top of any list of fantasy to be cherished." —Andre Norton

"It has been years since the last Earthsea book, but LeGuin hasn't lost her touch. She draws us into the magical land and its inhabitants' doings immediately. Earthsea mavens must rejoice, and relative newcomers will profit from the Earthsea history and two maps that round out the book." —Booklist

"Le Guin seduces deliciously; draws you in with the sure, calm hand of a master to wander her magical archipelago of Earthsea." —Nalo Hopkinson, author of Brown Girl in the Ring

"It held my attention so firmly that I read it straight through from beginning to end in one sitting. Nobody writing in English today has Le Guin's mastery of the extended fable and extended parable." —Suzette Haden Elgen, author of The Ozark Trilogy

"Such welcome lucidity. Such a seasoned approach to power and life's traumas…fully matured." —Faren Miller, Locus

"One of the most fully realized fantasy settings in the genre, and one of the most popular…[Tales from Earthsea is] witty, thoughtful, and will make you believe that magic could really work." —Science Fiction Chronicle

"Le Guin's Earthsea is one of a handful of genuinely iconic settings in modern fantasy. [Tales from Earthsea] represents her own discovery that Earthsea has changed in unexpected ways since she last visited it, and that it still holds a few secrets…compelling…elegantly structured." —Gary K. Wolfe, Locus

"Enchants from start to finish." —Nina Kiriki Hoffman, author of The Thread That Binds the Bones
Ace Trade, 9780441009329, 336pp.
Publication Date: May 7, 2002
About the Author
Ursula K. Le Guin lives in Portland, Oregon.
or
Not Currently Available for Direct Purchase