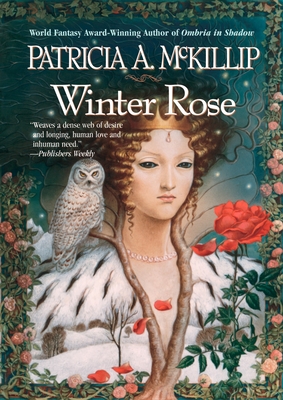 Winter Rose (A Winter Rose Novel)
Paperback

* Individual store prices may vary.
Other Editions of This Title:
Mass Market Paperback (5/1/1997)
Description
Sorrow and trouble and bitterness will hound you and yours and the children of yours…
Some said the dying words of Nial Lynn, murdered by his own son, were a wicked curse. To others, it was a winter's tale spun by firelight on cold, dark nights. But when Corbet Lynn came to rebuild his family estate, memories of his grandfather's curse were rekindled by young and old--and rumors filled the heavy air of summer. In the woods that border Lynn Hall, free-spirited Rois Melior roams wild and barefooted. And as autumn gold fades, she is consumed with Corbet Lynn, obsessed with his secret past…
Praise For Winter Rose (A Winter Rose Novel)…
"The pace here is deliberate and sure, with no false steps; the writing is richly textured and evocative…[
Winter Rose
] weaves a dense web of desire and longing, human love and inhuman need."—
Publishers Weekly
"Fascinating and enchanting."—Magazine of Fantasy and Science Fiction
"The prose is impeccable, the story memorable, and the characters admirable." —Science Fiction Chronicle
"McKillip manages to be both subtle and wise…Winter Rose confronts icy feyness with warm humanity, and leaves us surprised by joy."—Faren Miller, Locus
"McKillip's prose, which is always wondrous, is rarely less than perfect here."—Shira Daemon, Locus
"Characteristically fresh, dainty fantasy…tingling and affecting work…delightful, delicate."—Kirkus Reviews
"Like some exquisite bloom, rich in subtlety and headily intoxicating with lush prose."—Starlog
"The story is well crafted and intriguing, McKillip's prose is as good as ever, and her evocation of both the familiar and the mysterious is nothing less than masterly…An excellent book."—Booklist
"A work rich in language…and dramatic in its emotions, Winter Rose envelopes the reader with a dense sensuality…a complex romance of magic and longing.
"—
Adventures of Sword & Sorcery
"Weaving folkloric elements into a fresh and original tale, McKillip employs deliberate, evocative language. She narrates her tale at a regal, measured pace that neither lags nor falters. This is not a book to be read in a hurry; it is meant to be savored. At the same time, it is dotted with deft touches of humor and with familiar, ordinary details which heighten the authenticity of the emotions it evokes. Fantasy addicts looking for a refreshing change will especially appreciate this one."—KLIATT
"Exquisite fantasy."—Voice of Youth Advocates
"A surprisingly moving story of love and sacrifice, one that echoes that fairy-tale classic 'The Snow Queen.'"—Time Out Books
"McKillip's writing is also warm and intimate and always approachable…a haunting novel…beautifully deliberate, richly textured."—Valley Times
"Weaves a dense web of desire and longing, human love and inhuman need.
"—
Publishers Weekly
"In this lyrical book, every sentence seems chipped from jewels or woven from water; the sheer beauty of language is enough to transport you."—Magazine of Fantasy and Science Fiction
Ace, 9780441009343, 272pp.
Publication Date: June 4, 2002
About the Author
Patricia A. McKillip is a winner of the World Fantasy Award, and the author of many fantasy novels, including The Riddlemaster of Hed trilogy, Stepping from the Shadows, and The Cygnet and the Firebird. She lives in Oregon.
or
Not Currently Available for Direct Purchase