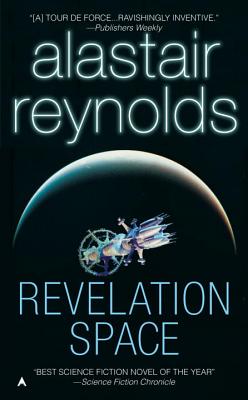 Revelation Space (Mass Market Paperbound)
Ace Books, 9780441009428, 592pp.
Publication Date: May 28, 2002
Description
The highly-acclaimed first novel in the Revelation Space universe When human colonists settled the Amarantin homeworld, few of them bothered to question the disappearance of its native population almost a million years before. But in the year 2551, one man, Dan Sylveste, is convinced that solving the riddle of the Amarantin is vital to human survival. As he nears the truth, he learns that someone wants him dead. Because the Amarantin were destroyed for a reason. And if that reason is made public, the universe--and reality itself--could be forever altered. This sprawling operatic novel ranges across vast gulfs of time and space to arrive at a terrifying conclusion. Alastair Reynolds, who holds a Ph.D. in Astronomy, has written a vivid and action-packed story that will linger in the minds of its readers. " A] tour de force...ravishingly inventive." --Publishers Weekly

"Best science fiction novel of the year" --Science Fiction Chronicle
About the Author
Alastair Reynolds was born in Barry, South Wales, in 1966. He studied at Newcastle and St. Andrew's Universities and has a Ph.D. in astronomy. A former astrophysicist for the European Space Agency, he lives in the Netherlands, near Leiden. He is now writing full-time.
Praise For Revelation Space…
"Intensely compelling; darkly intelligent; hugely ambitious." Paul J. McAuley, author of Ancients of Days

"A terrific treat. I was hooked from page one. Billion-year-gone alien wars, killer intelligencesand perhaps the most stunning and original alien artifact in modern science fictionand all rendered with the authentic voice of a working scientist. Ferociously intelligent and imbued with a chilling logicit may really be like this Out There." Stephen Baxter, co-author of The Light of Other Days

"A striking first novel. Revelation Space delivers the goods. Certain to be one of the year's most impressive debut novels, and one of the most significant large-scale epics of the year. Reynolds is the next writer to watch in the resurrection of the conceptually intelligent space opera." Gary Wolfe, Locus

"Complicated, and very clever and well-written...a spectacular first novel."Aboriginal SF

"A delight. A refreshing and entertaining reconsideration of some of the genre's oldest tropes. An impressive first novel, quite possibly the space opera of the year. Watch for it at awards time."Jonathan Strahan, Locus
Advertisement