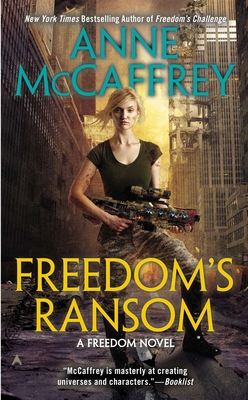 Freedom's Ransom (Mass Market Paperbound)
Ace Books, 9780441010202, 304pp.
Publication Date: January 28, 2003
Description
Enslaved on an uninhabited planet by the alien Eosi, Kristin Bjornsen and her fellow humans not only survived against all odds to colonize the world now known as Botany, but liberated themselves from their captors and claimed it as their home
The colonists could not have achieved victory without the help of the exiled Catteni alien, Zainal, who helped Kris contact other races subjugated by the Eosi, and inspired the rebellion that freed them all. To ensure Botany's future, its people must build alliances.
In the wake of alien devastation, Earth has been looted of its technology technology Botany desperately needs. If Kris and Zainal can reclaim the stolen goods, they can assist Earth while setting a foundation for Botany's place in the universe

About the Author
Anne McCaffrey was the multi-award winning bestselling author of more than fifty books, including the Dragonriders of Pern series, the Freedom series, and the Tower and the Hive series.
Praise For Freedom's Ransom…
"Masterly [and] memorable."—Booklist
 
"Touching and humorous."—Publishers Weekly

 


"Touching and humorous."—Publishers Weekly

"McCaffrey is masterly at creating universes and characters so memorable that readers can slip comfortably back into [her] world…Full of humorous events as well as excitement, the fourth entry in McCaffrey's Freedom series will be relished by fans."—Booklist
Advertisement