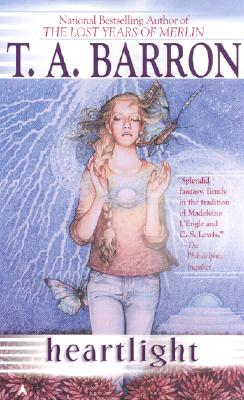 Heartlight (Mass Market Paperback)
Ace, 9780441010363, 256pp.
Publication Date: February 25, 2003
* Individual store prices may vary.
Description
A "splendid" stand-alone novel "in the tradition of Madeleine L'Engle and C.S. Lewis." (Philadelphia Inquirer)

A young girl must find her missing grandfather-and uncover the secret he harbors that could save Earth and the entire solar system from annihilation.
Praise For Heartlight…
"An ethereal quality pervades the entire Heartlight narrative with a glowing core of hopefulness…it flows like a strong, smooth river in continuous dreamlike motion to a satisfying yet poignant conclusion…an excellent story."—Brian Jacques
 
"Heartlight…crosses generational lines and becomes a vehicle for family discussions about love, death, independence, and integrity."—Rocky Mountain News
 
"What a joy to read…The author manages to combine sophisticated concepts of physics with high fantasy in a marvelous way."—Madeleine L'Engle
 
"A splendid action-adventure science fantasy filled with deep, resonant emotional and spiritual undertones…This book shines as a bold, original effort worthy of repeat readings."—Publishers Weekly
 
"Like Madeleine L'Engle, T.A. Barron very persuasively and very plausibly compounds great galactic adventure with questions fundamental to the universe—ours or any other."—Lloyd Alexander
 
"This thoughtful adventure combines fantasy, physics, and metaphysics in a manner reminiscent of Madeleine L'Engle."—Booklist

 

or
Not Currently Available for Direct Purchase