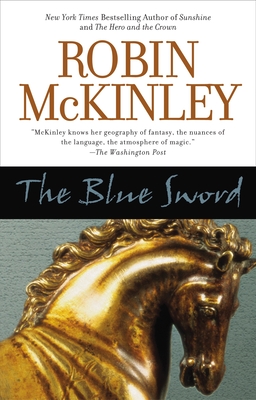 The Blue Sword (Paperback)
Ace, 9780441012008, 320pp.
Publication Date: December 4, 2007
Other Editions of This Title:
Digital Audiobook (1/17/2013)
Paperback (10/1/2000)
Mass Market (3/15/1987)
Hardcover (10/1/1982)
Prebound (3/1/1987)
* Individual store prices may vary.
Description
From the New York Times bestselling author of Sunshine is the Newberry Award winning classic novel that had enthralled readers for decades.

This is the story of Corlath, golden-eyed king of the Free Hillfolk, son of the sons of the Lady Aerin.

And this is the story of Harry Crewe, the Homelander orphan girl who became Harimand-sol, King's Raider, and heir to the Blue Sword, Gonturan, that no woman had wielded since Lady Aerin herself bore it into battle.

And this is the song of the kelar of the Hillfolk, the magic of the blood, the weaver of destinies…
About the Author
Robin McKinley has won various awards and citations for her writing, including the Newbery Medal for The Hero and the Crown and a Newbery Honor for The Blue Sword. Her other books include Sunshine; the New York Times bestseller Spindle's End; two novel-length retellings of the fairy tale Beauty and the Beast, Beauty and Rose Daughter; and a retelling of the Robin Hood legend, The Outlaws of Sherwood. She lives with her husband, the English writer Peter Dickinson.
Praise For The Blue Sword…
"A new language, a new landscape, and a new people—all unforgettable." –Horn Book

"Any book that, at one point or another, reminded me of The Sheikh, Gunga Din, Islandia, and, The Lord of the Rings, can't be anything but a true original." –Asimov's Science Fiction

"McKinley knows her geography of fantasy, the nuances of the language, the atmosphere of magic…" –The Washington Post

"This is a zesty, romantic heroic fantasy with an appealing stalwart heroine, a finely realized mythical kingdom, and a grounding in reality that enhances the tale's verve as a fantasy." –Booklist

"McKinley has reworked many familiar mythological motifs into a tale that is completely fresh; her spare and eloquent prose is sheer delight. The novel succeeds not only as fantasy/adventure, but also as a compelling portrait of the vibrant, wryly humorous Harry." –School Library Journal

"It is a fresh and interesting setting for a novel of high fantasy. Like the desert air, the tone is open and bright and brilliant." –Marilyn H. Karrenbrock