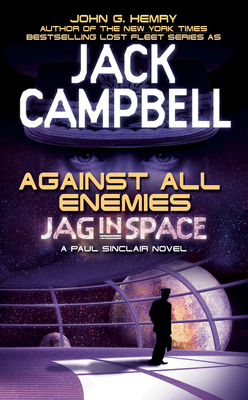 Against All Enemies (A Paul Sinclair Novel #4) (Paperback)
Ace, 9780441013821, 352pp.
Publication Date: December 27, 2005
* Individual store prices may vary.
Description
John G. Hemry's novels featuring Lieutenant Paul Sinclair "give SF its own JAG" (SF Reviews.net). Now, in the final novel in the series that melds science fiction action and page-turning courtroom drama, Sinclair finds himself fighting for justice once more—and the danger is closer than ever before…

After a long tour as legal officer aboard the starship USS Michaelson, Paul Sinclair is anticipating shore duty. Too bad it's cancelled when a group of religious fanatics hijack a freighter and invade an asteroid. Fearing they could threaten the earth with asteroid debris, starships from several countries converge on the scene. But their mission turns deadly when the South Asian Alliance opens fire on the asteroid.

After the smoke clears, Paul suspects the Michaelson's rules of engagement have been compromised—suspicions that are confirmed when NCIS asks him to work covertly as a spy. Someone onboard the Michaelson is selling secrets, and to uncover the traitor, Paul must walk the dangerous line between duty and honor…
About the Author
John G. Hemry is a retired naval officer who graduated from the U.S. Naval Academy in Annapolis before serving with the surface fleet and in a variety of other assignments. He is the author of the Paul Sinclair series and the Stark's War series. As Jack Campbell, he is the New York Times bestselling author of The Lost Fleet series, The Lost Stars series, and Pillars of Reality series. He lives with his indomitable wife and three children in Maryland.
Praise For Against All Enemies (A Paul Sinclair Novel #4)…
Praise for the Paul Sinclair series

"Exceptionally thoughtful and intelligent…Paul Sinclair is the kind of imperfect hero we genuinely like."—SF Reviews

"Hemry's real-world experience gives the investigation and subsequent courtroom scenes a convincing feel."—Analog

"Hemry…provides more intelligent characters than most, has a good grasp of pacing, and provides a satisfying climax…It's good entertainment." —Eyrie