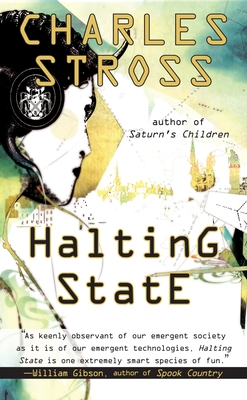 Halting State (A Halting State Novel #1) (Mass Market)
Ace, 9780441016075, 336pp.
Publication Date: June 24, 2008
Other Editions of This Title:
Hardcover (10/2/2007)
* Individual store prices may vary.
Description
"Halting State [is] a near-future story that is at once over-the-top and compellingly believable." – Vernor Vinge, author of Rainbows End        
      
In the year 2018, Sergeant Sue Smith of the Edinburgh constabulary is called in on a special case. A daring bank robbery has taken place at Hayek Associates—a dot-com start-up company that's just floated onto the London stock exchange. But this crime may be a bit beyond Smith's expertise.              

 The prime suspects are a band of marauding orcs with a dragon in tow for fire support. The bank is located within the virtual reality land of Avalon Four, and the robbery was supposed to be impossible. When word gets out, Hayek Associates and all its virtual "economies" are going to crash hard.                            

 For Smith, the investigation seems pointless. But the deeper she digs, the bigger the case gets. There are powerful players—both real and pixelated—who are watching her every move. Because there is far more at stake than just some game-head's fantasy financial security…
About the Author
Charles Stross was born in Leeds, England in 1964. He holds degrees in pharmacy and computer science, and has worked in a variety of jobs including pharmacist, technical author, software engineer, and freelance journalist. He is now a full-time writer.
Praise For Halting State (A Halting State Novel #1)…
"As keenly observant of our emergent society as it is of our emergent technologies, Halting State is one extremely smart species of fun." – William Gibson, author of Agency

 "Halting State [is] a near-future story that is at once over-the-top and compellingly believable." – Vernor Vinge, author of Rainbows End

"The first couple pages had me hooked, and I didn't touch another book until I finished it." – John Carmack, lead developer of Doom and Quake, and technical director of id Software
 
"This is the best fictional take ever written about virtual worlds." – Raph Koster, designer of Ultima Online, Star Wars Galaxies, and Metaspace

or
Not Currently Available for Direct Purchase