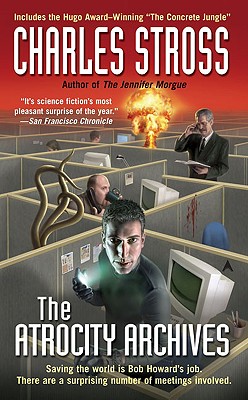 The Atrocity Archives (A Laundry Files Novel #1)
Mass Market

* Individual store prices may vary.
Other Editions of This Title:
Digital Audiobook (1/14/2010)
Paperback (1/3/2006)
Description
The first novel in Hugo Award-winning author Charles Stross's witty Laundry Files series.


Bob Howard is a low-level techie working for a super-secret government agency. While his colleagues are out saving the world, Bob's under a desk restoring lost data. His world was dull and safe - but then he went and got Noticed.

Now, Bob is up to his neck in spycraft, parallel universes, dimension-hopping terrorists, monstrous elder gods and the end of the world. Only one thing is certain: it will take more than a full system reboot to sort this mess out . . .
Praise For The Atrocity Archives (A Laundry Files Novel #1)…
"Like his peer Cory Doctorow, Stross has an ironic Generation X sensibility, conditioned, in his case, by time spent in the simultaneously thrilling and boring world of information technology. In The Atrocity Archives, Stross's genius lies in devoting fully as much time to the bureaucratic shenanigans of the Laundry as he does to its thaumaturgic mission." – The Washington Post Book World

"Much of the action is completely nuts, but Stross manages to ground it in believability through his protagonist's deadpan reactions to both insane office politics and supernatural mayhem." – San Francisco Chronicle

"If this keeps up, 'Strossian' is going to become a sci-fi adjective…Charles Stross writes with intelligence and enjoys lifting the rock to show you what's crawling underneath…The clever results will bring a smile to your face." – The Kansas City Star

"It's science fiction's most pleasant surprise of the year." – San Francisco Chronicle
Ace, 9780441016686, 368pp.
Publication Date: December 30, 2008
About the Author
Charles Stross, born in 1964, is a full-time science fiction writer and resident of Edinburgh, Scotland. He is the author of seven Hugo-nominated novels, including Accelerando, Neptune's Brood, Saturn's Children and The Laundry Files series, and winner of three Hugo Awards for best novella. Stross has had his work translated into more than twelve languages. He has worked as a pharmacist, software developer, and tech-industry journalist.